Predicting Which Stocks Are Going to Zero
Analysts aiming to steer investors clear of disaster are pointing fingers at those companies that seem to be headed for bankruptcy
Aaron Pressman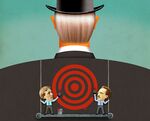 It seems like only yesterday regulators were accusing stock analysts of being stingy with "sell" ratings because of conflicts of interest, such as a desire to win investment banking business. How quaint. With the S&P 500-stock index down 39% and many individual stocks down twice that, analysts have started assigning an even worse rating: "going to zero."
The trend may have started over the summer when some enterprising banking analysts predicted that shares of IndyMac Bank (IDMCQ) in Pasadena, Calif., would go to zero. Bravo to them, since the stock was recently about 4 cents a share.
Now "zero" ratings are proliferating. RBC Capital Markets (RY) analyst Mark Sue slapped a target price of zero on telecommunications-equipment maker Nortel Networks (NT); Deutsche Bank analyst Rod Lache says General Motors (GM) shareholders will have worthless stock certificates within 12 months; and Henry Blodgett thinks satellite radio provider Sirius XM (SIRI) is headed for bankruptcy. Analysts at Morningstar (MORN) say the shares of 32 of the 2,000 companies they cover are likely to become worthless.
Analyst estimates are notoriously unreliable, of course, so don't expect every stock with a target price of zero to go out of business. But many recent zero-rating recipients are indeed in dire straits.
Take Nortel. Defenders point out that it had $2.65 billion in cash as of Sept. 30 and sales of $11 billion over the prior year. A looming $1 billion bond issue doesn't mature until 2011. But RBC's Sue notes that Nortel is burning through cash—more than $600 million since the start of 2008—and needs $1 billion to $1.5 billion just to run its business next year. "Bankruptcy is a distinct possibility," he writes. While not commenting on the report, a Nortel spokesman says it "has put in place decisive actions to cut costs and preserve cash to strengthen our financial footing." GM says: "We've clearly outlined a plan to restructure our business. We think that will drive our stock price in the long term."
At Morningstar, the number of companies seen as likely to go out of business has doubled in the past few weeks, and the firm expects the number to rise. Its sector analysts calculate fair value for every stock they cover based on fundamentals, says analyst Matthew Coffina, author of Morningstar's "Most Overvalued Stocks" column. Setting a value of zero "says there's a considerably better than 50% chance a stock will be worthless," he adds.
Most of Morningstar's picks, such as Citadel Broadcasting (CDL), are in the media industry, where heavily indebted companies are seeing advertising revenues plunge. But regional airline Mesa Air Group (MESA) faces a lawsuit over its operations in Hawaii and could see lower payments from its carrier partners. Decode Genetics (DCGN), which uses genealogical records from Iceland to understand genetic diseases, hasn't had any drugs approved by the Food & Drug Administration and could run out of cash.
Coffina says Morningstar isn't advocating that investors sell those shares short, but it wants to warn shareholders who may be hoping for a recovery. "Even selling at 30 cents is a huge return if shares are going to zero," he says.
Business Exchange related topics:Equity ResearchU.S. Stock MarketStock Investing
Before it's here, it's on the Bloomberg Terminal.
LEARN MORE