Caterpillar Digs in on China's Ground Floor
After decades of courting Beijing, the U.S. earth-moving manufacturer has made a big inroad by acquiring China's Shandong SEM Machinery
By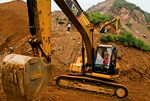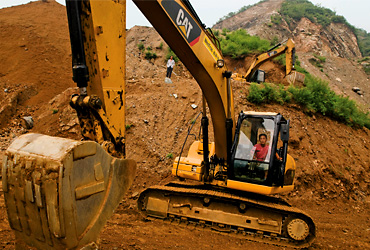 Qingzhou, China - The celebration of Shandong SEM Machinery's 50th anniversary didn't quite match the glamour of the closing ceremony of the Beijing Olympics. But for heavy-equipment maker Caterpillar (CAT), the SEM event was of far greater importance. So just two days after attending the Games' finale, Caterpillar CEO Jim Owens and a half-dozen other company executives hopped on a plane to the city of Qingzhou, home of SEM, an up-and-coming player in China's construction machinery business.
Cannons blasted confetti, a band played, and Owens lined up with local grandees for photo ops. Although the climax was the unveiling of a plaque commemorating SEM's half-century of business, Caterpillar was more focused on the future than the past. The U.S. company in February completed its acquisition of SEM, which it hopes to make a cornerstone of its efforts in the mainland. "Thanks to the people of SEM," Owens told the crowd, "Caterpillar has been able to play an ever-growing role in China's growth."
DECADES OF VISITS AND DEALS
The buyout was a big coup for Caterpillar. Eager to build its own national champions, Beijing has blocked acquisitions of companies that manufacture earthmoving equipment. In July, for instance, private equity firm Carlyle Group abandoned a three-year effort to buy a majority stake in Xugong Group Construction Machinery, a company Cat has had a joint venture with since 1994.
Caterpillar spent many years working to overcome Beijing's skittishness. Owens has made dozens of visits to the mainland since 1983, when he began negotiating a technology transfer deal as a foothold in China. By 1987, Cat was selling designs for equipment to a dozen Chinese manufacturers. "We were very weak...[Caterpillar] offered us a shoulder to stand on and allowed us to jump higher," says Feng Baoshan, a deputy director at the China Machinery Industry Federation, a trade group. Owens even sent a deputy to visit during the 2003 SARS crisis, a sign of support that may have helped Cat win permission to take a minority stake in SEM in 2005.
Caterpillar is pursuing what it calls a "two-tiered" strategy in China. The company will use SEM at the lower end of the market and it hopes to boost sales of Caterpillar-branded gear at the upper end. All told, Cat has 16 manufacturing facilities across China and expects sales of $2 billion-plus in the mainland this year, up some 35% over 2007. It plans to spend $100 million to triple SEM's output and expects to open two new plants making Cat-branded machinery in the coming year.
Caterpillar, of course, faces plenty of rivals. Among scores of domestic players, Xugong is the most formidable. It has been growing by 30% annually and expects sales of nearly $6 billion this year. Japan's Komatsu is the leading foreign player, with sales expected to grow by 30%, to $2.5 billion, this year. South Korea's Hyundai and Doosan Infracore are also strong contenders. "Komatsu and the Korean companies are putting pressure on Caterpillar," says Qiu Shiliang, an analyst at Everbright Securities.
Even as the competition intensifies and much of the world slides into recession, Cat is hoping China's infrastructure needs will generate enough business for everyone. Beijing on Nov. 9 announced a $586 billion economic stimulus package that will include big outlays on highways and railroads. That, along with U.S. plans to boost infrastructure spending, has given a 17% lift to Caterpillar's stock price. Says Owens: "We have just laid the foundation here in China."
Before it's here, it's on the Bloomberg Terminal.
LEARN MORE