Detroit Bailout: How It Can Work
Washington can buy a lot of leverage with a bailout, but it will need some industry experts to vet carmakers' plans for recovery. Still, there are successful precedents
By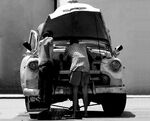 Going all the way back to FDR, the relationship between the auto industry and Washington has been a testy one. Detroit and the Feds have fought over everything from government support for labor unions in the 1930s to the imposition of fuel-economy regulations in the '70s. Now, Congress is proposing to appoint a so-called car czar who, in exchange for billions in aid, would impose Washington's will on Detroit.
President-elect Barack Obama put his finger on the potential peril when he said: "We don't want government to run companies. Generally, government hasn't done that very well." Congress, perhaps wisely, has not been specific about what Detroit should do to revive its fortunes. Under the proposed bill, the automakers would have to submit a restructuring plan by Mar. 15. The job of the car czar would be to make sure the plan went far enough. Most industry and management experts expect this person would play the heavy by gathering the various stakeholders—union, creditors, and management—and forcing them to make concessions.
There has been talk in some quarters, particularly the liberal wing of the Democratic Party, of forcing General Motors (GM), Ford Motor (F), and Chrysler to make more fuel-efficient cars. Industry experts point out that tough new regulations coming down the pike already impel them to do that. The main job of the car czar, they say, would be to impose on the companies a radical financial restructuring that gives them a shot at competing. "You have to force them to restructure, or they will be back asking for more money," warns Maryann N. Keller, an independent analyst who is still involved in the car business.
So if the czar's main role is to bang heads together, where to start? The main issue is slashing debt and health-care liabilities. Despite all the union givebacks in recent years, auto workers and retirees pay 5% of their health-care costs, vs. an average of 30% for the rest of Americans with coverage. Making auto workers and retirees shoulder more of that burden would greatly reduce GM's $47 billion in union health-care obligations. Bondholders almost certainly would have to take a serious haircut. Senator Bob Corker (R-Tenn.) has suggested they trade debt for equity at a 70% discount. That would cut GM's $63 billion debt—including the proposed government loans—by more than half.
Lessons from the Past
There are historical models to draw on. Chrysler cut half its debt in 1979 before getting a loan guarantee. GM, Ford, and Chrysler are asking for $34 billion from taxpayers and were expected to get only about half that in the proposed bailout. To get more money, the theory goes, they would have to become earnest about restructuring.
The government's intervention in the railroad industry offers another possible model. In 1976, the U.S. created Conrail from several bankrupt companies. A new CEO and an advisory board of industry veterans oversaw the whole operation. Congress had oversight but didn't delve too deeply into Conrail's affairs. Instead it set targets for profitability and technology upgrades. When the company still wasn't making money, Washington threatened to liquidate it if the union didn't make concessions. It did, and Conrail eventually became profitable.
In this charged environment, could the government impose its will without allowing politics to trump dispassionate business decisions? Much would depend the car czar's skills and temperament. A combination of industry knowledge and financial acumen would be paramount. Paul H. O'Neill, a former Treasury Secretary who sat on GM's board in the '90s, says that the car czar would need to convene an advisory board of finance pros and industry veterans. With his customary forthrightness, O'Neill adds: "There isn't anyone in government with a clue how to run an enterprise or reinvent one."
Before it's here, it's on the Bloomberg Terminal.
LEARN MORE