Christie Hefner Is Leaving Playboy
The 56-year-old daughter of company founder Hugh Hefner is stepping down as CEO after 20 years in the job
Christopher Palmeri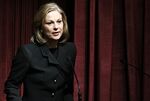 The economy's chill winds are blowing all the way to the Playboy Mansion's famous hot tub grotto. Playboy Enterprises (PLA), the $300 million-a-year home of Playboy magazine and cable channel, announced Dec. 8 that Christie Hefner, 56, the longtime chief executive and daughter of company founder Hugh Hefner, will step down at the end of January.
"Last month marked my 20th anniversary as CEO; just as this country is embracing change in the form of new leadership, I have decided that now is the time to make changes in my own life as well," Christie Hefner said in a statement. Added father Hugh: "As a result of her efforts, the company today has more consumers and fans than at any time in our history. I believe that she will go on to achieve even greater personal success." Christie Hefner will be replaced on an interim basis by Jerome Kern, a Playboy board member and business consultant.
Despite her father's encouraging words, Christie Hefner leaves the House of Hef at a difficult time. The company has reported slumping sales and widening losses this year. Its stock price, as high as 11 a year ago, has fallen to just over 2. (The shares jumped nearly 22% Monday on news of the CEO change.) Playboy breaks out its business into three categories. Entertainment, which includes television and the Web properties, generated revenues of $38 million in the third quarter, a 22% drop from the prior year. Publishing, at $22 million, was down almost 6%.
Brand Enjoying a Revival
Only the licensing arm showed a slight gain. Recently the company has been selling artworks from its corporate collection, and in a conference call reporting a $5 million loss in early November, company execs were even talking about the "hidden asset" that Hef's legendary Los Angeles mansion represents. The elder Hefner rents his famous estate from the corporation for $700,000 annually, but it costs the company nearly $3 million a year to run. Playboy acquired the 29-room mansion in 1971 for $1.1 million but has invested some $14.2 million more in it, according to a Securities and Exchange Commission filing.
Playboy's poor results are coming even as the brand enjoys something of a renaissance, particularly among young people. The hit show The Girls Next Door on the E! entertainment network (CCW) featured the 82-year-old Hugh cavorting with three much younger women. In a flashback to the brand's 1960s glory days, the company even opened a Playboy Club at the Palms Casino in Las Vegas and plans another in the Asian gambling mecca of Macao (BusinessWeek.com, 6/27/08). Hugh had cameos on the hit HBO show Entourage and in a music video by the alternative rock group Weezer.
To some degree the company's problem is one exasperating all traditional media—the abundance of free content on the Web and the alternatives that brings for both viewers and advertisers. In April the company announced it would sell its Los Angeles video production studio and in October announced it would stop releasing DVDs entirely.
Magazine Circulation Falling
The company has lost market share in cable television as cable companies began offering more individual movies on demand, often from new entrants into the business. Circulation at its 2.7 million-subscriber flagship magazine is down from 3.
2 million a decade ago and 6.6 million at its 1972 peak, while printing costs have increased. To combat these trends the company has sought to boost profits by slashing expenses. Playboy let go 140 people this year, 17% of its workforce, and is working to reap overall savings from its operations of $12 million.
The sole part of the business that is doing well is licensing Playboy's famous rabbit ears logo. The licensing arm earned $6.7 million in the third quarter, a 5% increase from the same period last year. The company has new products launching in coming months including new fragrances with perfume company Coty and a nostalgic underwear set called the Bunny Bra.
Hugh and Christie were always a study in contrasts. The buttoned-down Christie operated out of Hugh's original Chicago stomping grounds in a Michigan Avenue office decorated with modern art. Her pajama-clad father gave lavish parties at his L.A. estate, complete with a kitschy game room and petting zoo. When Christie took over the company in 1988, Playboy was reeling from losses related to overexpansion of its casinos and clubs. She refocused the business on media, purchasing television studios and launching a subscription-based Web site.
Facing Raunchier Competition
But that expansion, such as the $95 million purchase of pay-per-view movie producer Spice Entertainment in 1998, proved costly. Playboy today has debts of $115 million. It also faces a central brand dilemma, as many online alternatives are far raunchier than the soft-core material for which the company is best known, all challenges that Christie Hefner's replacement will have to address.
Business Exchange related topics:Entertainment IndustryMedia MogulsLeadershipOnline Video
Before it's here, it's on the Bloomberg Terminal.
LEARN MORE