Yule Be Sorry?
Everybody loves presents. But office gift fests can get mighty awkward. Here's how to take the pressure off
Louise Lee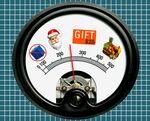 The no-gift zone
Staff shouldn't feel compelled to buy you a present, so simply send a "please, no gifts" memo. If you're too late, thank a gift-bearing employee for his or her kindness. If the gift is overly generous, gently give it back or explain you'll donate it to charity. Feel free to donate an inexpensive gift. Tell the employee that next year you'll inform everyone early about the policy.
Go away, Santa
How do you get out of a holiday gift exchange gracefully? Tell the person who's organizing it to e-mail everyone, asking only those who want to participate to reply. That leaves everyone else free to hit "delete" without feeling like a Scrooge.
For your right-hand...
Even if you decide not to buy something for everyone, don't neglect your administrative assistant. Discreetly present the gift behind closed doors or have it sent to his or her home. What to give? Skip perfume or "anything that you'd consider giving to a lover," says Jodi R.R. Smith, president of Mannersmith Etiquette Consulting in Salem, Mass. Better choices: a book or basket of fruit.
Perfect for everyone
A present from the boss to each employee is fabulous, so long as everyone gets the exact same—appropriate—item. And err on the side of caution. Giving everyone a bottle of wine might seem like a kind gesture, until you realize your production manager doesn't drink. The mall gift card is a much safer bet.
Back to BWSmallBiz December 2008/January 2009 Table of Contents
Before it's here, it's on the Bloomberg Terminal.
LEARN MORE