The Franchising Way to Grow
Here's what you need to know to decide if franchising is the route to expanding your company quickly and relatively cheaply
By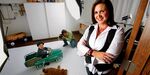 Lisa Flynn, a mother of two young boys, never relished having her children photographed. For her, birth announcements and holiday portraits meant either spending a small fortune for a professional photographer who didn't cater to colicky clientele or settling for cheesy props and fuzzy blue backdrops at the mall portrait studio. "I thought, 'There has got to be a better way to get your kid's picture taken,' " says Flynn, who was running her own marketing and advertising firm at the time. She looked into buying a franchise that specialized in children's photography but, unimpressed, created her own studio instead. In 2006 she opened Whippersnappers Studio, a kid-friendly portrait specialist in Bend, Ore., that captures kids, families, and even pets in high-quality photographs. "We never tell the kids to 'say cheese,' " says Flynn, who charges $195 for a 45-minute sitting and all the digital images that result. "Instead, we focus on capturing their unique little personalities."
Whippersnappers, which has four employees and $200,000 in annual revenue, broke even in its first quarter and has been profitable since. In 2007 Flynn decided it was time to take the concept on the road. She considered opening other company-owned studios, but that came with the risks, costs, and hassles of setting up multiple locations and hiring managers for each. It would also be time-consuming and require Flynn to spend too much time away from her family. There was a better option, as she saw it, and that was to franchise.
There are nearly a million franchised establishments in the U.S., and it's not just the usual suspects of fast food and retail. Says Kenneth Franklin, president of Pittsburgh-based consultancy Franchise Developments and a minority partner in the founding of the Arby's franchise: "I've had clients in manufacturing, agricultural, health care, and professional services."
Most entrepreneurs who franchise do so for one reason: growth. In 2002, Jeff Klinger and Chuck Runyon founded Hastings (Minn.)-based Anytime Fitness, an exercise club that stays open 24/7 by giving members their own keycards and installing elaborate security. By the next year, Klinger says, franchises "were selling like hotcakes." Today the 80-employee, $20 million company owns 10 of its own clubs and has more than 850 franchises (which employ their own staff) nationwide. Such growth would have been next to impossible had the business not franchised.
At first glance, franchising seems like an easy and cheap way to get your company growing. You come up with the idea and figure out how to make it work universally. Then you give franchisees the rights to your trademark and brand, a crash course in running the business, and a detailed operations manual. In return for not having to reinvent the wheel, franchisees pay an up-front fee—usually between $10,000 and $50,000—as well as ongoing royalties that typically range from 4% to 10% of sales. High-volume franchises tend to charge smaller royalties than service businesses with less volume.
Because franchisees pay for most of the up-front costs, such as leasing and improving a site and buying equipment, franchising is relatively risk-free for entrepreneurs. "You can capture market share more rapidly than you could on your own and, by and large, [do it] with other people's money," says Matthew Shay, president and CEO of the Washington (D.C.)-based International Franchise Assn. At the same time, you can keep your overhead, payroll, and marketing costs in check. In a tight lending climate, instead of seeking growth capital from banks or investors, you'll be searching for individuals with cash to become franchisees. Those might be downsized executives searching for job stability or retirees wanting an alternative to the stock market.
And franchisees have a vested interest in your company's success. "Companies that don't use franchising need to worry about hiring good managers and maintaining a high level of service, often in markets that are demographically diverse," says Dennis Campbell, an assistant professor at Harvard Business School.
Franchising is a way to find partners who know the market well and, because they're owners, are motivated to make the businesses work. This was a key consideration for Flynn, who worried about maintaining her studio's "boutique" feel. "I wanted an owner in every studio," says Flynn.
Still, franchising has its own drawbacks. Not only do you need to weigh the franchise model against company-owned locations, you also need to make sure your business is a good candidate in the first place. And if you decide your business can be easily replicated, even in diverse markets, there's the time commitment. You could find yourself logging 100-hour workweeks fine-tuning your procedures and spelling out every last one in a detailed training manual. Legal fees, consulting fees, marketing expenses, and support staff will run you anywhere from $50,000 to $250,000, says Franklin. You typically need to sell at least 10 units to break even, though the number will vary depending on how much you spend setting up the franchise and how much you earn in royalties, he says.
But the biggest hurdle for franchisors isn't the cost or the hassle. It's this: "Every time you put a franchisee in business, you give them your logo, your brand, and every detail about your operations," says Shay. "Some entrepreneurs just don't ever want to lose control."
If you decide that franchising is for you, be prepared for a ton of paperwork. You'll want an attorney to help you through the worst of it, and maybe a franchising consultant as well. But writing the operating manual, perhaps the most onerous task, is likely going to fall squarely in your lap. Then there's the matter of finding franchisees who won't run your business—and your good name—into the ground.
SIMPLE CONCEPTS WORK
How can you tell if your business would franchise well? If you're still struggling to make your flagship work, either financially or operationally, that's a good indication that you're not ready, says Lane Fisher, a senior partner with Fisher Zucker, a Philadelphia law firm specializing in franchising. And have you taken a vacation lately? If your management can't run the business profitably in your absence, chances are franchisees won't be able to, either.
Then there's the business itself. "Some businesses are just too complex to franchise," says Fisher. Any business that requires a specialized skill or creative talent—say, a restaurant with a complicated menu or a boutique clothing store—isn't ideal. Relatively simple concepts tend to do the best because they appeal to a diverse pool of would-be franchisees and are quick to launch.
That was the case for Orange Tree Hot Dogs, a Jacksonville (Fla.) restaurant that opened in 1968. "People were always asking us why we didn't have locations in other places," says Ann Roeber, who took over the business from her parents in 1999 and opened two other locations. "But opening more stores on our own didn't really make sense for us." They didn't want to have to oversee more restaurants or employees, and it would have been slow going at best. In 2006, Roeber made the first steps toward franchising. It took her nine months to write the operations manual. Then she spent $50,000 in legal and consulting fees—less than a quarter the cost of opening a single location—and getting the paperwork ready. She also opened a fourth location that could double as a training center and commissary for Orange Tree's secret onion sauce, slaw dressing, and drink. "When people saw that we were franchising, the phone started ringing off the hook," says Roeber, whose company has 25 employees in four locations and $1.2 million in annual sales. Already the company has sold 10 franchises, including one to a couple in their 30s and another to retirees whose children run the business. Franchisees pay Orange Tree an initial $17,500 fee and a 4% royalty on sales, plus 1% of sales that go into a marketing fund. Roeber doesn't expect to start earning a profit on the franchises until all 10 stores have opened.
FIND GOOD ADVISERS
Many would-be franchisors hire consultants to help them think through the business plan and outline the details. Your best bet is to work with consultants with experience in your industry. You can search for one on the Web site of the International Franchise Assn., at franchise.org. Most consultants prefer to work on a retainer, but Shay says many will work on an hourly or project basis, particularly with new companies.
You'll also need good legal help. An attorney who specializes in this area can put together the franchise agreement and the franchise disclosure documents. The former spells out details such as the up-front fee, royalties, and other financial details. It also outlines what you must provide your franchisees, and exactly what you'll get in return. While many parts of the contract are standard, your attorney can help you add key contingencies. Flynn, for example, can specify which props can be used in photographs and monitor the final photos sold to customers.
The Federal Trade Commission requires that you provide prospective franchisees with a disclosure document containing a summary of the franchise agreement, background information on the corporation, financial statements, and details on how the company operates. "It's a 'warts-and-all' portrait of the franchisor," says Dennis Wieczorek, partner at DLA
Piper, a Chicago law firm. Some 14 states require franchisors to submit one before selling franchises in that state. The document needs to be updated annually, and also when there are significant changes to the company. If you haven't already, you'll also need to make sure the franchise name can be trademarked, and file for federal trademark protections.
As your attorney draws up the necessary documents, you'll be writing your business' operating manual. The goal? "If I got hit by a bus, someone could run the business smoothly," says Flynn. The manual must spell out the mundane—finding the right location, working with approved vendors, and pricing—as well as the idiosyncrasies that make your business unique. Flynn decided exactly what needed to go into each location, from the camera equipment to the M&M's in the waiting area, and spelled it out in a manual titled, "Now what? Everything You Need to Know to Open Your Store in 1,127 Easy Steps."
You'll need similar attention to detail. "The No. 1 cause of the demise of chains is lack of consistency," says Heidi Neck, an associate professor of entrepreneurship at Babson College. If the quality of just one location is subpar, that can hurt the brand across the board.
Even the most meticulous operating manual doesn't provide you with 100% insurance against bumbling or corrupt franchisees. That was a serious consideration for Country Place Living, an Irving (Tex.) company founded more than 25 years ago that runs assisted-living residences. In 2006 the company, then operating five homes with 40 employees, started franchising. "One of the things we really had to think about was whether we could keep our brand integrity and ensure that the quality of care was as good as at our corporate residences," says Cynthia Gartman, the company's president and chief operating officer. The company took many steps to maintain control over the brand, adding a clause to its franchise agreement that allows Country Place to take over an operation if anything goes seriously wrong. The $4.5 million, 60-employee company now operates eight company-owned residences and has sold three franchises.
CHOOSE WITH CARE
Of course, the best way to protect your company is to make sure nothing goes wrong in the first place. That means finding franchisees who understand your brand and are committed to running the business the way you've outlined it. In most cases, the one-time franchise fee will cover only your initial costs, plus training and support of the franchisee. Most of your profit will come from royalties, says Franchise Developments' Franklin. Flynn is charging a $45,000 fee and 6% in royalties. Franchisees also pay 2% of sales into a Whippersnappers advertising fund. But she doesn't expect the franchise operation to make money until at least 15 locations are up and running, which means she, like other entrepreneurs, needs to be careful about who she chooses.
While some franchisors hire brokers to match them with franchisees, many do the marketing on their own, using the trade show circuit, advertising in related publications, through their Web sites, and in their stores. Many of Anytime Fitness's franchisees have been clients or acquaintances of other franchisees. Orange Tree Hot Dogs was an established brand in Jacksonville with many loyal customers; some jumped at the opportunity to buy in.
As eager as Flynn is to sell Whippersnappers franchises, she is taking her time to find the right partners. "I want franchisees who are passionate about the concept, but capable of following a system," says Flynn. She turned away several prospective buyers before selling her first franchise in August, to longtime clients who are moving to Fort Collins, Colo. These people really "get" the business, says Flynn: They worked in the Bend flagship for a couple of months to "test drive" the studio before buying. Now they're sure it's a great fit, says Flynn, and they have a head start on the 1,127 steps it will take to open their own Whippersnappers Studio.
Back to BWSmallBiz December 2008/January 2009 Table of Contents
Before it's here, it's on the Bloomberg Terminal.
LEARN MORE