How to Get on DailyCandy and Thrillist
The popular e-newsletters value hipness, praise from bloggers, and witty presswritten by you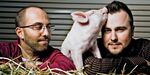 Last holiday season, Justin Esch and David Lefkow, creators of the gourmet seasoning Bacon Salt, got the perfect gift. Lifestyle e-mail service DailyCandy featured their quirky product, which makes any old food taste like bacon, in its popular missive. DailyCandy gushed that Bacon Salt, which sells for $4.49, is "zero calorie, fat free, vegetarian (for reals)" and "takes everything to next level in terms of deliciousness." The Seattle duo, in business just a few months, got 800 orders that day, about eight times more than usual. More media attention followed. "That e-mail turned things from exciting to pandemonium," says Lefkow. Today the $1.8 million, five-employee company sells Bacon Salt in some 5,000 grocery stores.
On any day, girly DailyCandy and guy-friendly Thrillist can launch an unknown company into the realm of hot with a single mention. DailyCandy has 2.5 million subscribers and 13 local editions; Thrillist has 500,000 readers and 7. E-mails promote fun products, new eateries, or anything else editors deem attention-worthy.
If you want to get the word out about your company, services like DailyCandy or Thrillist can deliver. But how do you get these arbiters of cool to highlight your product or service? (No, you can't pay them.) Here's what you need to know.
ARE YOU HIP?
To appeal to either newsletter, you have to be an under-the-radar company that targets the newsletters' city-dwelling Gen Y readers. Their readers don't look to them for recommendations on a tax-prep firm or an auto repair shop (at least not yet). Your prospects are better if your company sells products or services that are timely and affordable and fit the newsletters' tone.
CREATE BUZZ ONLINE
Editors often troll blogs for ideas. Sami Bay, founder of SomethingStore in Amityville, N.Y., got noticed after a review on coolsiteoftheday.com. Bay's company sends anyone a random product for $10, a concept Thrillist found "preposterous" but useful for gift-giving, as "when it sucks, it's only kind of your fault." Bay credits the May 2008 write-up, which came seven months after launching, with boosting monthly sales to $35,000 from $7,000. "It put us on the map," he says. Likewise, Padraic Aubrey says Thrillist's review in June of his Los Angeles macaroni-and-cheese delivery service, Paddymac, drove weekly sales to $4,000 from less than $1,000. Thrillist spotted him on food blog Grubtrotters and urged Lakers fans to "deliver some variety to your couch."
FANCY MEETING YOU HERE
The newsletters' spies also suss out trends at art openings, fashion events, underground parties, and farmers' markets. "Our editors have the knack of being at the right place at the right time," says DailyCandy CEO Pete Sheinbaum. That means you need to get out there, too, so seek events where your product or service can dazzle.
BLOW THEM AWAY
Write a pitch, but make it wow. Thrillist founders Ben Lerer and Adam Rich say they only cover about 10% of pitches; Eve Epstein, DailyCandy editor-in-chief, says a quarter of write-ups come from pitches. Both services prefer that owners, not publicists, do the talking. E-mail works, but send a sample, too. That did the job for N8B, a Chicago company that makes semi-solid face wash—not the sexiest item on paper. But a Thrillist editor took a swipe, got hooked, and raved about the "nifty stick" in a recent review.
Back to BWSmallBiz December 2008/January 2009 Table of Contents
Before it's here, it's on the Bloomberg Terminal.
LEARN MORE