How to Build Trust in Your Business
Customers need a reason to believe in your company. Here's how to woo skeptics
Doug Hall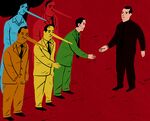 Whatever happened to trust? Banks don't trust one another enough to make loans. Customers don't trust banks. Republicans don't trust Democrats. Democrats don't trust Republicans. Independents don't trust anyone.
When distrust rules, it's harder for entrepreneurs to sell customers on the wonders of their new products and services. That means entrepreneurs need to create what I call a real reason to believe, which leads to credibility for you and your company. Here are six ways to do that, along with some of the most innovative examples I've seen in the past year.
1. THE WHOLE STORY.
Tell customers precisely how you can do what other companies can't. Explain why your recipe, production process, or design is different. I recently met with a company that was first to build plastic parts three times stronger than aluminum. What did they tell me to allay my skepticism? That they can do this because they've invented a way to incorporate carbon fibers into the injection molding process.
2. TESTIMONIALS.
Have experts and customers testify to your effectiveness. Todd Daniels of the Montana Manufacturing Extension Partnership put together a testimonial video that impressed me in its simplicity and effectiveness. The video used rapid slides, each focusing on a specific promise. One said: "Robert of Simms Fishing Products Did It—Generated 200 New Product Ideas in One Day." The next slide: "Robin of Béquet Gourmet Caramel Did It—Grew Sales 70% in Nine Months," and so on.
3. DEMONSTRATION.
There is real credibility when a customer can see, feel, and touch the wonders of your product. To prove to would-be customers that his nonstick pizza pans don't scratch, John Crow of Lloyd Industries in Spokane Valley, Wash., takes a quarter and rubs it on the pan as hard as he can.
4. PEDIGREE.
Pedigree includes the source of your raw materials, the skill of your people, and even awards you've won. When I asked Stuart Powell, general manager of Ponca City (Okla.) Cookshack, what makes his barbecue smokers great, he was rightly proud that his smokers have helped more than 1,000 cooks win barbecue competitions. I bought two—one for the office and one for home.
5. DATA.
Hard data proving your claim can be a powerful tool for building credibility. Recently, a client of mine had a new whiskey that just didn't generate much enthusiasm with customers or company management. Then one of the junior people on the team ran a series of taste tests, mixing the whiskey into a new cocktail each day. After about a week, she had a recipe in which her whiskey beat the leading brand 2 to 1 in taste tests. Suddenly, the product became exciting.
6. GUARANTEE.
A guarantee can be a strong source of credibility, especially if it's bold and brave. Wright State University in Dayton makes this pledge in a flyer: "We're so confident that we have outstanding engineering and computer science programs that we'll guarantee you employment in a degree-related career field after you graduate or the opportunity to pursue an engineering or computer science master's degree tuition free!" That's a real reason to believe. What's yours?
Back to BWSmallBiz December 2008/January 2009 Table of Contents
Before it's here, it's on the Bloomberg Terminal.
LEARN MORE