A Blooming Miracle
Jeremy Quittner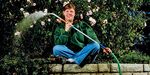 The Atlanta Botanical Garden, with its great lawn, bogs, and Dale Chihuly glass fountain, is so verdant that visitors could be forgiven for forgetting that a drought is drying out gardens elsewhere in the city. Technically, the garden is exempt from outdoor watering restrictions due to its nonprofit status and preservation of rare and endangered plant species. But it has voluntarily embraced water conservation to show Atlantans that there is an earth-friendly way to stay in bloom. "We tried to take a big leadership role," says Amanda Campbell, manager of display gardens. "People come here to get ideas for their homes."
The garden has installed two 1,000-gallon Original Rainwater Pillows behind its amphibian house, and from those collects enough rainwater to sustain an entire bog full of native plants. It sought help from another local small business, Irrigation Development, to help open a long-closed well and lay two 1,500-gallon holding tanks for additional watering. Some newer succulent gardens require no watering at all, and ornamental fountains now recycle water. Campbell says the garden has reduced its water use by at least 25%, eliminating, among other things, 2,000 gallons formerly soaked up by its great lawn.
Back to BWSmallBiz December 2008/January 2009 Table of Contents
Before it's here, it's on the Bloomberg Terminal.
LEARN MORE