The Hidden Pension Threat
New rules are hitting companies that are already down, and could make a painful recession worse
Matthew Goldstein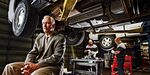 John Moore is fighting to keep his company afloat. People no longer want to buy the gas-guzzlers sitting on his auto lot in Los Gatos, Calif., an upscale town that's home to several Silicon Valley pioneers. His sole supplier, General Motors (GM), is begging the government for aid. With sales down 35% over the past 12 months, the 59-year-old Moore, who as a teenager worked at the family-owned dealership, wonders if there will be a business to pass on to his son, Bret. Already, the recession has claimed 115 dealerships in the state, roughly 1 in 10.
But Moore's most pressing problem might be one that's hidden from plain sight: his employee pension plan. Moore's dealership is among the 300 or so companies that participate in the Automotive Industries Pension Fund, a so-called multi-employer plan that covers 27,000 retired and working mechanics in the Bay Area, including two dozen at his shop. The plan has $1.2 billion or so in assets, but needs $2.1 billion to pay pension benefits for current employees and retirees. To erase that shortfall, the plan's operators are debating whether to raise annual company contributions by 7.5%—a move that would further squeeze Moore's profitability. He has no way of escaping: If he were to sell or shut down the business, federal rules would require him to fork over $1.7 million to cover his company's share of the plan's deficit—a sum equal to the dealership's profits for the past decade. "I pray that the managers hit the lottery or their investments pay off," says Moore.
Amid the plunging stock market, much attention has been paid to the slipping fortunes of traditional single-employer pension plans, including the well-chronicled problems at Nortel Networks (NT) and Ford Motor. But lesser-known multi-employer plans may pose a more urgent threat to millions of rank-and-file workers, corporate managers, shareholders—and the overall economy. Operating in the shadows of their single-employer counterparts, multi-employer plans account for nearly a quarter of the $2 trillion in private pension assets, and include everything from big corporations such as supermarket giant Kroger and shipping titan United Parcel Service to small businesses operating on shoestring budgets (DIS).
In pooling together assets from many different corporations, a multi-employer plan should minimize the risk of any one company's not paying its pension tab, since it can tap other companies in the plan to make up for the shortfall. But something unexpected is happening now: As the recession grinds on, companies in a broad swath of industries, from transportation and manufacturing to food services and lodging, are going out of business and have stopped making their pension payments. That has left the remaining companies—healthy or not—with the burden of making up for the massive shortfalls. "The multi-employer plan is a great model as long as all of the companies stay alive and grow," says William D. Zollars, CEO of trucking giant YRC Worldwide, which participates in such plans. "But the way the current plans are structured, you not only pay for your employees but all the orphans whose employers have gone out of business."
To prop up multi-employer plans, companies will have to dip into profits, which could force them to tamp down salaries and bonuses, cut jobs, and slash capital spending. It's a vicious circle: The bigger the shortfalls in coming months, the more they will weigh on the already slumping U.S. economy—which will only make the pension situation worse.
PLUNGING PORTFOLIOS
At least some of the blame for the nation's pension woes lies with Washington, which has unwittingly tied the hands of companies with single- or multi-employer plans.
Under the 2006 Pension Protection Act that's just now taking effect, employers must ensure their pension plans have enough money on hand to cover current and future benefits. If a plan is significantly underfunded—meaning its obligations exceed its assets—the company or companies must make up the difference within a certain number of years.
Talk about bad timing. The legislation was meant to force corporations to shore up their plans so that the government wouldn't have to bail them out. But no one foresaw the great bear market of 2008. Now, just as the new pension rules are kicking in, investment portfolios are plunging. The nation's largest pension plans in late October had just 85 cents of assets for every $1 of current and future obligations, according to Standard & Poor's (MHP)—and that gap, a record $204 billion, has likely increased with November's stock market swoon. Goldman Sachs (GS) estimates that companies will be forced to boost their pension contributions to $40 billion in 2009, from about $18 billion this year.
Even relatively healthy companies could see their profits squeezed. Defense contractor Lockheed Martin (LMT) warned on Oct. 21 that it would probably have to pony up $100 million to cover a shortfall in its $27 billion single-employer plan, reducing its estimated profits by 30 cents a share in 2009. In early November food distributor Dean Foods (DF) lowered its earnings outlook for next year, citing in part the rising costs in its single- and multi-employer plans. Kroger, which contributes $207 million to multi-employer plans annually, estimates its share of the shortfalls in those plans to be $500 million to $700 million. "Companies are under severe pressure," says Alan Glickstein of benefits consultancy Watson Wyatt (WW). "It's not a leap to say the pension problems will add to the pressure on companies to cut jobs. This will make for some hard choices."
Now an unlikely coalition of corporate executives, union leaders, and trade groups is pleading for help. A hastily crafted proposal to soften the new law died in a lame-duck session of the Senate on Nov. 20. But the backers, including Senators Charles E. Grassley (R-Iowa) and Edward M. Kennedy (D-Mass.), plan to offer another version when Congress meets again this month or the Obama Administration takes office in January. Companies "shouldn't have to cut jobs to meet funding obligations," says Lynne Dudley, vice-president of the American Benefits Council, a trade organization lobbying for relief. Newton B. Jones, president of the International Brotherhood of Boilermakers, whose members participate in one of the biggest multi-employer plans, said in a public statement on the union's Web site: "It is truly ironic that a law intended to protect defined-benefit pensions might actually destroy them."
Here's another irony: Taxpayers could find themselves picking up the tab, precisely the scenario lawmakers tried to avoid. The Pension Benefit Guaranty Corp., a federal government agency, was created in the 1970s to manage the pension assets of bankrupt companies. In recent years the PBGC assumed the benefits of steel giants like Bethlehem Steel and airlines such as United Airlines and Delta. But the PBGC is also hurting, with just $69 billion on hand and $80 billion worth of obligations. Should another big pension provider go under, the PBGC might need more public funding. "We are always trying to be prepared for the future," says Charles Millard, the PBGC's director. "We regularly update our contingency plans and review the funded status of plans and industries that concern us."
As a group, multi-employer plans, created for industries in which unionized workers tend to change jobs frequently, are in worse shape than traditional single-employer funds. The government has deemed roughly 10% of all multi-employer plans in "critical" condition or "endangered," with no more than 80 cents for every $1 of benefits. Even seemingly solid plans have taken a turn for the worse. Last year, the Boilermaker's pension, which covers 70,000 current and former workers in the manufacturing, construction, and oil services industries, said it was operating in the "green zone," meaning it could easily cover its liabilities. Now it's warning about "serious financial challenges."
MAKING UP FOR SHORTFALLS
Alexandra "Sandy" Pope, the president of a Teamsters chapter in New York City, is a trustee for the $100 million Local 805 Pension & Retirement Fund, a multi-employer pension plan. All multi-employer plans are overseen by boards of trustees, which include representatives of the employees covered by the pensions, like Pope, and the employers that pay for them. Trustees make all the major decisions, from hiring outside investment managers and setting the portfolios' asset allocation mix to determining benefits and adjusting contributions. To make up for shortfalls, trustees have two main weapons in their arsenal: cutting benefits for future retirees and raising employers' contributions. Under federal law, pension plans can't touch the benefits of current retirees. Given the worsening fiscal condition at many multi-employer plans and the competing interests of the two factions on trustee boards, future negotiations between the two will likely prove contentious.
The 52-year-old Pope, one of the few female tractor-trailer drivers when she started in the 1970s, is used to fighting battles. She got her first job in a Teamsters shop by accident when management mistook her name for that of a man. Pope sometimes clashed with male colleagues early in her career, and she's drawing on those experiences now as she struggles to fix her pension fund, which has a $20 million deficit. To save money, Pope and the plan's other trustees have whacked the early retirement benefits for the 600 active workers in the plan—even for those who've already put in enough years to qualify. The board now worries it will have to impose higher employer contributions as well. "I'm beside myself about having to barrage companies over increases in contributions because many companies are having a hard time making payroll," says Pope. "I ultimately think we will [make up the shortfall]. But I'm really worried about plans that are more severely underfunded and have employers that are even more on the edge."
In some cases it's the companies asking trustees for relief. Benefits consultant Brian Tarpey of Tarpey Group is working with several New York-based auto-industry companies struggling to make their contributions to a $250 million multi-employer plan. Right now the companies' contributions amount to 4% to 8% of their employees' paychecks. The companies, fearful of going out of business as the industry contracts, are asking for a reduction in their contributions. It's a Catch-22. If the board cuts contributions, the fund's assets will deteriorate further. If it doesn't, some companies could go out of business, leaving others to pick up the financial slack. "If your profits are being squeezed to where you can't make money and you've got this pension liability, then why stay in business?" says Tarpey. "Employers are scared."
Few multi-employer plans are as troubled as Chicago's Central States Pension Fund, which provides benefits for 500,000 current and former Teamsters nationwide. Decades ago, former Teamsters President Jimmy Hoffa allegedly used the fund as his personal checkbook. Central States became known as the "bank of the Mob" during the 1970s after making loans to casinos with ties to organized crime. After that, the government stepped in, placing Central States under the watch of the courts. Ever since, a host of money managers, most recently at Goldman and Northern Trust (NTRS), have run money for the plan.
But even with its star lineup, Central States is in dire straits, with $21 billion in assets and $39 billion in liabilities.
Sure, the market rout has pounded Central States' investment portfolio this year. But the pension is also reeling from its decision last year to let its biggest employer, UPS, exit the plan in exchange for a $6 billion one-time withdrawal payment. UPS, which declined to comment for this article, worried it would have to shoulder more of the pension burden, especially if other contributors went out of business. The Teamsters figured the rush of cash would improve the fund's financial position.
RETHINKING RETIREMENT
The idea turned out to be shortsighted. UPS's exodus has deprived the plan of a critical source of cash just when it needs it the most. Now employer contributions account for just 30% of Central States' income, compared with 50% when UPS was still adding money, according to Teamsters for a Democratic Union, a grassroots lobbying group. The rest is supposed to come from investment returns—but the fund is down 22% this year. "We reviewed this at the time and felt it was in the best interest of the UPS employees, the union, and the remaining participants in Central States Pension Fund," says Ken Hall, a pension trustee and Teamsters vice-president.
The UPS situation isn't Central States' only problem. One of its biggest remaining contributors, YRC Worldwide (YRCW), on Dec. 3 won tentative wage concessions from the Teamsters in a bid to cut its costs. Even so, the company's financial outlook is worrisome for Central States and its members. Says YRC's Zollars: "We are feeling good about our longer-term prospects."
Now workers in the Central States plan are rethinking their retirement strategies. Tim Pagel planned to stop driving a rig in 2011, soon after his 57th birthday. Having worked for YRC for more than three decades, Pagel is eligible to retire before age 65 with sizable pension benefits—for now, at least. The Houston resident isn't sure he can count on the same package in 2011. "I've wanted to get out [of truck driving] for quite a while because it's so physically demanding," says Pagel. "I've given 34 years to this industry and worked hard. I'm a little bit angry at what's happened."
Even retirees, whose pension benefits are guaranteed, could be at risk. If the funding woes at Central States continue, the plan could, in the worst-case scenario, end up in the hands of the PBGC. But the PBGC limits benefits in multi-employer plans to about $13,000 a year per retiree, compared with roughly $52,000 for single-employer plans. That would be a big cut for Frank Bryant, a 67-year-old former UPS driver who retired in 2003 and now collects a $37,000 annual pension from Central States. "It looks like a downward spiral right now," says the Greensboro (N.C.) resident. Central States says it has no plans to alter benefits or employer contributions.
It's not all bad news in multi-employer land. Consider the Western Conference of Teamsters Pension Fund, which has $30 billion in assets, covers more than 550,000 union members and retirees, and still has roughly 97 cents for every $1 of benefits even amid the bear market. What's its secret? Besides cutting benefits years ago in anticipation of a downturn, the fund's trustees have a more conservative investment philosophy than peers. Western Conference has 45% of its assets in stocks and 41% in bonds, vs. 61% and 28%, respectively, for the typical corporate pension plan. "They have done a lot of things right," says James Dexter, a consultant with benefits firm Mercer.
Other plans would do well to follow Western Conference's lead. But overhauling a plan's portfolio would be tricky now. Fund managers who are sitting on losses are loath to sell huge swaths of beaten-down stocks. No one wants to sell at the bottom.
Unless the government offers some relief, many pension plans will soon run out of options. Cutting future benefits and raising company contributions can add only so much to the coffers, especially if investment performance continues to deteriorate. "There is no brilliant answer," says Don Crosatto, an official with the International Association of Machinists in California and a trustee of the Automotive Industries Pension Fund, which has already cut early retirement benefits. "We are going to make it or break it on the strength of our investments." Employees, managers, shareholders, and taxpayers have much riding on the outcome.
Before it's here, it's on the Bloomberg Terminal.
LEARN MORE