The Downturn Makes Toyota Discount Desperately, Too
Overexpansion and plunging sales in North America have brought losses and deep discounts to Toyota Motor. But $40 billion in cash will help
David Welch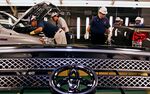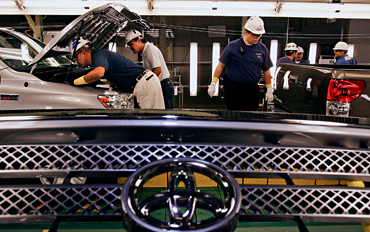 How do you know the auto industry is really in dire straits? When even mighty Toyota Motor (TM) is having trouble. Not only did the Japanese carmaker's U.S. sales plummet 34% in November, but they did so even as the company served up huge discounts. Tearing a page from General Motors' (GM) marketing manual, Toyota has been offering 0% financing on 12 models and $5,000 off its Tundra pickup and Sequoia SUV. "We're seeing some lift from incentives," says Bob Carter, U.S. chief of the Toyota brand. But they're not as efficient as we'd like them to be."
The heavy discounting threatens to hook consumers on such deals—something GM learned to its chagrin—even as it hammers profits. Toyota lost $330 million in North America during the quarter that ended Sept. 30. And analysts say those losses could grow in the months ahead, given the horrendous market conditions, the deep price cuts, and a yen that has been strengthening against the dollar.
Toyota's problem is in large part the result of an aggressive expansion launched a few years ago in North America, where it sells nearly a third of its vehicles. The company has opened two factories since 2006 and another is scheduled to come online in 2011. It now produces some 1.6 million cars a year in the U.S. and Canada, with a further 1.2 million imported from Japan. Unlike Honda (HMC)—its closest rival—Toyota makes a full lineup of vehicles, from subcompacts like the Yaris to lumbering pickups such as the Tundra.
Now that car sales are cratering, all that extra production adds up to a lot of unsold inventory. Toyota has made some moves to build fewer cars. It shut down its two-year-old pickup plant in San Antonio for three months this year and restarted it in November with just one shift. But despite cutting North American production by 20% and importing fewer cars from Japan, Toyota says it has about 73 days' worth of unsold cars and 87 days' worth of trucks on dealer lots. It prefers to have 40 to 60 days' worth. "When you want to be No. 1 at all costs," says Maryann N. Keller, an independent analyst who sits on the boards of Dollar Thrifty Automotive Group (DTG) and dealer chain Lithia Motors (LAD), "you build too many factories."
It's telling that Toyota is pushing back its expansion plans. On Dec. 4 the company opened a plant in Woodstock, Ont., but says it will run only one shift for the time being. Toyota has also delayed the opening of a planned Prius plant in Mississippi.
Toyota executives insist the company will emerge from the economic crisis as strong as ever. There is reason to believe them. Toyota has an awe-inspiring $40 billion in cash. And dealers have faith in the strength of the brand and model lineup. Mike Jackson, chief executive of megadealer AutoNation (AN), says the automaker has tightened credit, hurting business at his 20 Toyota stores. But once the company gets on the other side of the credit crunch, Jackson says "there will be deferred sales. Toyota will be able to take advantage of it."
With Ian Rowley in Tokyo
Before it's here, it's on the Bloomberg Terminal.
LEARN MORE