Olympus: HDTV For the Operating Room
The camera maker is tops in surgical video equipment. But hospitals are cutting back, and rivals with cheaper models are closing in
By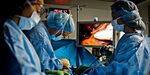 Olympus can't do anything about the financial and economic turmoil dashing sales of digital cameras. But it has managed to take charge of a fast-growing market that the average shutterbug probably doesn't even know about: medical video cameras.
Olympus was first to incorporate high-definition television signals into cameras known as videoscopes, which surgeons snake through patients' bodies to search for stomach tumors, perform colonoscopies, or assist in removing diseased gallbladders. HDTV sharpened the quality of the images doctors could generate and helped turn Olympus into the No. 1 player in the $2.5 billion gastrointestinal endoscopy market, with 70% of global sales. (Japan's Pentax and Fujifilm (FUJI) vie for second place.)
But with competition on the rise and hospital budgets constricted by the economy, Olympus must convince customers that its $20,995 surgical cameras are still worth the premium price. "These devices have to enable hospitals to do more procedures and to do them more efficiently," argues F. Mark Gumz, chief executive of Olympus Corp. of the Americas, who has been calling hospital CEOs personally to assess how far their spending might fall. "It's a concern—there will be significant financial stress on hospitals."
CLEARER PICTURE
Olympus' HDTV endeavor was fueled by technological persistence and a dash of foresight. Several years ago the company's scientists were looking for ways to improve its surgical cameras. Olympus already had designed and manufactured image-sensor chips, which convert light into electrical charges and gave it a head start in HDTV. Even though the broadcast industry hadn't fully embraced high def yet, Olympus executives predicted these lifelike images would appeal to surgeons.
To further sharpen images, Olympus scientists combined HDTV with something called narrow-band imaging, which filters out obscuring colors. Together, the technologies magnify fine structures such as capillaries, letting surgeons easily detect abnormal tissues. Then Olympus added the new capabilities to a 6 mm-diameter camera at the end of a flexible scope, which can turn corners in the body and produce images from almost every angle. Olympus introduced its first HDTV surgical cameras in 2005.
In fiscal 2008, ended in March, Olympus' surgical sales grew 29%, pushing total medical sales to $3.4 billion. At 31% of the company's $10.8 billion in annual revenue, its medical equipment unit is now bigger than its businesses in consumer cameras, mobile communications, or lab diagnostics.
New rivals are chasing Olympus, however. U.S. medical device giant Stryker (SYK) introduced its first HDTV videoscope last December. The Olympus gear also costs about 10% more than the non-HDTV cameras sold by competitors. In a flush economy, that might not matter. But as recessionary indicators pile up, more hospitals are cutting capital budgets. Credit Suisse (CSR) analyst Kunihiko Kanno wrote recently that Olympus' medical sales growth rate will slow to 13% next year.
CEO Gumz's latest worry is that patients may put off elective procedures because they can't afford them. So far, he says, the decline has been limited mostly to cosmetic surgeries, which don't require videoscopes, as colonoscopies do. "I hope people don't put off these elective procedures," he says, but is quick to add with an apologetic tone, "I'm not an economist."
Before it's here, it's on the Bloomberg Terminal.
LEARN MORE