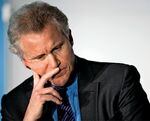 Investors cheered on Dec. 2 when General Electric (GE) moved to further restructure its troubled financial-services unit. GE stock rose 14% in one day amid assurances that efforts to cut costs and bolster the health of GE Capital would keep the conglomerate's $1.24-a-share dividend intact. But the euphoria may be short-lived.
After almost two decades of explosive growth at GE Capital, some analysts believe the company's glory days are now firmly behind it. If the business enters an era of lower profitability, that could create problems for its parent, which has relied heavily on the financial arm to support its sacrosanct dividend. GE is aiming to shrink its $700 billion portfolio of financial assets and secure more stable forms of financing. The likely result: a less leveraged company that produces fewer downside surprises but is also less likely to produce outsize profits.
With its role in everything from aircraft leasing to store-brand credit cards for the likes of Wal-Mart (WMT), GE Capital has long been a potent driver of profits. While CEO Jeffrey R. Immelt has added much-needed transparency to the operations during his seven-year tenure, he also allowed GE to become more reliant on finance. The business went from roughly 40% of operating earnings in 2001 under former CEO Jack Welch to 50% in recent years. Infrastructure, however, is emerging a growth engine. And GE Capital became increasingly reliant on commercial paper, the short-term source of funding that abruptly dried up during the Wall Street crisis.
GE plans to reduce its reliance on commercial paper, beef up its deposit base, and reduce debt levels next year. Profits at the finance unit are expected to be $8 billion this year but slump to $5 billion in 2009. That would put GE Capital's earnings at about a third of the $18 billion analysts expect GE to earn next year. GE Vice-Chairman Michael A. Neal, who runs GE Capital, sees the unit returning to double-digit growth in 2010. "We believe we have the company well-positioned for what's going to be a very difficult cycle," he said.
Thin Paper
Yet such moves could make it tougher for GE to deliver returns investors want to see. With commercial paper too volatile to be a big funding source, GE Capital is turning to alternatives. It plans to raise a further $20 billion in new consumer deposits through various financial units and says it is exploring "thrift opportunities" with FDIC cooperation as well. Of course, federally insured deposits bring their own regulations. "Just as General Motors (GM) can't use deposits from GMAC to finance its manufacturing, GE Capital can't use these deposits to fund itself," says Sean Egan, managing director of Egan-Jones Rating, an institutional researcher. Adds Washington bank consultant Bert Ely: "They would have to play by the same rules as banks."
Some analysts worry that the dividend, which GE is holding steady but isn't raising for the first time in 30 years, could be at risk. Last year, GE Capital helped GE generate 177% of the free cash needed to cover its dividend payouts. While GE says it can cover the $13.4 billion needed for dividends in 2009, some question how it will manage with a diminished finance unit—particularly if the economy worsens. "The dividend could become an issue," notes GE investor Walter A. Hellwig, who manages $30 billion for Morgan Asset Management in Birmingham, Ala.
GE says a smaller finance arm won't stop the company from returning to double-digit growth by 2010. But some worry that less leverage could lead to lower returns.
Before it's here, it's on the Bloomberg Terminal.
LEARN MORE