Terror in India: The Political Fallout Spreads
The investigation of the Mumbai terrorist attacks continues, but pressure is increasing for the Indian government to react forcefully
by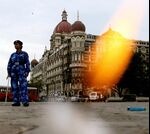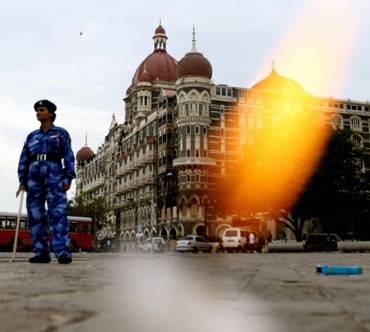 The political fallout from the terrorist attacks in Mumbai is roiling India. As funeral pyres burned on live television and mass candlelit vigils turned into sober protests against the government's perceived intelligence failures and mishandling of the attacks that left as many as 175 people dead (BusinessWeek.com, 11/27/08), pressure mounted on the Indian government to react forcefully.
Tensions are rising with Pakistan, as Indian officials point to ties between the terrorists and forces inside India's longtime rival. In an off-the-record meeting with BusinessWeek and representatives of two newspapers, a senior official at India's Research & Analysis Wing, the country's equivalent of the CIA, shared transcripts of text messages and e-mails that were sent to the gunmen inside Mumbai's Taj hotel, where dozens of people were killed in a 60-hour siege. The messages, some in Urdu and purportedly from phone numbers registered inside Pakistan, included explicit military-style instructions to the gunmen to retreat to different wings of the hotel and referred to the gunmen as Team A and Team B. Some were congratulatory notes.
Because the Indian intelligence official did not allow reporters to make copies of the messages, BusinessWeek could not independently verify their authenticity. However, CNN-IBN, a TV channel, has broadcast call logs from satellite phones that include several phone calls to Karachi and Jalalabad, both in Pakistan.
India Inc. Reacts
Even as the investigation continues, India's business community is clamoring for quick and decisive action (BusinessWeek.com, 11/28/08). In Bangalore, which was the target of a smaller bombing last year, CEOs of outsourcing, IT, and biotech firms met with the state government and asked for, among other things, permission to arm their security guards with more than just handguns and nightsticks. India has strict gun-control laws. "Our security services are meant to protect property, not to protect lives," says Kiran Mazumdar Shaw, the chairman of Bangalore-based Biocon, India's largest biotechnology firm, who was at the meeting. "As employers, our employees are our responsibility. While the government does what it can, we have to do what we can."
With India's Congress-led coalition facing elections just months from now, the purging of leaders continued through the weekend and into Monday. There have already been four high-profile resignations at the state and national levels, including Shivraj Patil, the home minister in New Delhi. Other resignations include chief minister and deputy chief minister of the state of Maharashtra, of which Mumbai is the capital. More resignations, including those of the 75-year old National Security Adviser M.K. Narayanan, are still being considered by the government.
It's unclear whether that will be enough to quell rising anger, both public and private. When Patil, whose purview as Home Minister includes the Indian Police Service, offered to resign at a Saturday night meeting of the country's leadership, his offer was met with pin-drop silence. "Not even his oldest friends stood up to support him," said an official who was at the meeting but declined to be identified. "There was relief he offered to do it before anybody had to demand it."
Patil's successor is a name well-known in economic circles: Palaniappan Chidambaram, the Harvard-educated Finance Minister who helped usher in major reforms in the past few years. Over recent months he has been battling runaway inflation and a global financial crisis that has soured India's economic boom.
An Unappealing Job
Chidambaram's appointment is seen as an offering to India's business community, which has a great deal to lose during a period of political instability.
"My first priority will of course be the investigation but also to work on better preparedness," he said in a quick interview as he left a meeting of the Congress Working Committee on Monday. Earlier, he had told reporters that he was reluctant to take the job, but did so at the insistence of Prime Minister Manmohan Singh. "I would be less than honest if I did not say that I was disinclined [to take the job]," he said.
The two top ministers in Maharashtra, Vilas Rao Deshmukh and Rao Sahib Ramachandra Patil, had been the focus of blistering criticism for their handling of the situation, but public sentiment turned against them further for public indiscretions. Deshmukh took his son, an aspiring film actor, and a famous Indian film director on a tour of the charred Taj Mahal and Palace hotel. Patil was caught on camera saying, "In big cities, such small incidents do occur."
But even this high-profile cleansing may not be enough to placate India's boisterous opposition party or to soothe the simmering anger of its people. Even before last week's attacks, more than 1,100 Indian civilians and security personnel had been killed in terrorist incidents in 2008, according to data collected by the South Asian Terrorism Portal. "Of course there will be some political fallout," says Omkar Goswami, the head of the Corporate & Economic Resource Group and formerly the chief economist of India's top industry lobby. "But what people really want to know is what will the government do next to keep us safe?"
That question, being asked all around India, may decide the fate of the current government, which is increasingly seen as weak and ineffectual. The Prime Minister's televised statement to the nation during the attacks, read haltingly off a teleprompter, was seen as lackluster. "We need a leader who can inspire some amount of faith and also give us hope," says Raghav Saxena, who was eating lunch at New Delhi's Taj hotel with his family. "Every time we are the victims, and all the government does is complain loudly."
"Too Little, Too Late"
Already the Bharatiya Janata Party (BJP), which has staked its popularity on a platform of Hindu nationalism, is preparing to capitalize on the situation. In previously scheduled municipal elections that were held over the weekend in Delhi, the BJP ran front-page ads promoting its ability to keep people safe from terror. The resignations are "too little, too late," said BJP spokesman Rajiv Pratap Rudy in a phone interview. "Elections are coming soon, and the people know who to turn to in a time of crisis like this."
Narendra Modi (BusinessWeek, 8/21/08), the BJP chief minister of Gujarat, an investment-friendly state on the border with Maharashtra, showed up in Mumbai on Friday, holding press conferences and handing out hundreds of thousands of dollars in cash to the families of the police officers slain in the attacks. Modi, who is seen as a Hindu fundamentalist, ran Gujarat during riots in 2002 that left more than 1,000 Muslims dead.
The U.S. is calling on Pakistan to cooperate fully with India in investigating the attacks. In 2001, after the attack on India's parliament was traced to Pakistan, diplomatic relations between the two countries were strained, and India deployed its forces to the border, prompting an escalation on the Pakistani side. But now the U.S. needs Pakistan to focus its limited resources on the conflict on its western border with Afghanistan. Secretary of State Condoleezza Rice, on her way to the region, has called on Islamabad to investigate. "What we are emphasizing to the Pakistani government is the need to follow the evidence wherever it leads," Rice said in London, according to the Associated Press. "This is a time for complete, absolute, total transparency and cooperation, and that's what we expect."
Before it's here, it's on the Bloomberg Terminal.
LEARN MORE