Wal-Mart Launches E-Health Program
Wal-Mart launches Dossia, an employee-driven, digital health records initiative, to help contain health-care costs
Reena Jana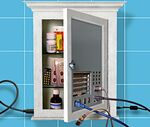 Starting early next year, Wal-Mart Stores (WMT) employees will spend less time filling out forms in the doctor's office. They'll be able to log on to the company's intranet to download and print any medical records their physicians require: allergy information, prescriptions, blood tests, entire health histories if necessary. After nearly a year of pilot tests, the Bentonville (Ark.) retailer made this option available to 1 million U.S. staffers who are eligible for insurance under its benefits enrollment program this fall. Thousands of employees have signed up, making this initiative one of the most ambitious thrusts into digital medical records, or "e-health," by any U.S. company.
Wal-Mart's program is part of a larger strategy embraced by incoming Chief Executive Michael Duke both to improve the company's image as an employer and to cut long-term costs. The retailer faces steadily rising health-care expenses, and it's not alone. A recent survey of nearly 3,000 U.S. companies by global consulting firm Mercer found that health-related costs are up 6%, on average, for the fourth straight year. Linda M. Dillman, Wal-Mart's executive vice-president for benefits and risk management, believes digital records will help by fostering "healthier associates who are more productive." And the move has an impact on other companies wondering "how to make a business case," she says. "It's easier when someone like a Wal-Mart goes first."
By offering a tool to help employees monitor their health, Wal-Mart hopes eventually to slash its insurance costs without triggering a backlash on privacy issues—a persistent problem with e-health projects. In theory, the digital records an employee gives to a physician are more accurate than forms the patient hurriedly fills out by hand at the office. Digital records reduce the risk that the prospective patient will misidentify a medication or fail to report earlier conditions or symptoms. And the doctor, armed with better information, can recommend a more suitable treatment. As a result, there are fewer complications that could require more expensive interventions down the road, driving up Wal-Mart's insurance costs.
The secret to gathering accurate records while preserving patient privacy is in the software. It automatically pulls information from the databases of participating insurers, pharmacies, and other parties, then stores it in password-protected digital files that only the employee can access. Wal-Mart didn't dream up this software system on its own. It's the product of a not-for-profit enterprise called Dossia, funded by major corporations including Intel (INTC), AT&T (T), and Pitney Bowes (PBI), as well as Wal-Mart itself. Each invested $1.5 million in the new company. The goal, says Dossia CEO Colin Evans, is simply "to make health care more efficient." Starting next year, Intel and the other original equity partners plan to implement the service and market it to other companies.
ORWELLIAN?
While Dossia has come up with a unique way to promote digital health records, it is hardly the first to proselytize on their behalf. E-health was a rallying cry for startups in the dot-com boom of the 1990s. According to the American Health Information Management Assn., a trade group, there are 200 commercial services in the U.S. building businesses around digital health records. Some do nothing more than help hospitals and insurance companies move patient records into computer databases. In the past two years, however, Microsoft (MSFT) and Google (GOOG) have plunged into e-health, offering individual consumers convenient tools for uploading personal health information onto Web sites. Both Microsoft's and Google's initiatives have provoked outcries from privacy advocates. They say unsophisticated users might post personal health information in areas where prospective employers or insurers could see it—potentially leading to discrimination.
That is one reason Dossia and its participating members decided to automate the data-entry processes. The less time employees spend collecting and uploading digital records, the less risk that private information will spill into the public arena, Dossia executives say. Evans, who is also director of policy and standards for Intel's digital health group, says the software's protections derive from "secure systems similar to those used to store bank information," developed in part by Intel.
Dossia hasn't been free from controversy. When it was announced two years ago, some commentators suggested it was Orwellian in its stealthy, centralized approach. Evans shrugs off such criticism, insisting its controlled system assures the records are for patients' eyes only. What's more, the strategy reduces the likelihood Dossia will run afoul of the Health Insurance Portability & Accountability Act (HIPAA), which bars doctors and hospitals from revealing private medical information to third parties. Since physicians do not handle the digital data in Dossia files, the program is HIPAA-compliant, the company contends.
Nevertheless, some physicians have expressed concerns about Dossia's system. One of the critics is Dr. Mike Magee, a senior fellow in health policy at the Center for Aging Services Technologies in Washington, D.C. He worries that information critical to a patient's care can get dangerously sequestered in a data "silo" if it is "owned by employers, health systems, and health vendors."
The bigger concern for many physicians is that, somewhere down the line, doctors will be asked to make major investments in information technology such as new software or additional computers and staff. If one goal of e-health is cost savings, they argue, the doctor's own costs should also figure into the equation.
Business Exchange related topics:Wal-MartEmployee BenefitsElectronic Health RecordsHealth 2.0
Before it's here, it's on the Bloomberg Terminal.
LEARN MORE