The SUV Is Rising from the Dead
Americans are downsizing to the smallest vehicle they can tolerate. But in many cases, that's just another kind of SUVone that gets about 22 mpg
David Welch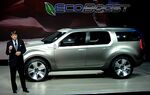 When gasoline blew past $4 a gallon in July, pundits declared the era of the gas-guzzling sport-utility vehicle over. Since then, of course, prices have dropped 50%, and when truck sales ticked up during the late summer, some commentators wondered if Americans were rekindling their love affair with the SUV. In a blog posting at the time, Karl Brauer, editor-in-chief of industry tracker Edmunds.com, noted more visitors to the site were researching SUVs and asked if Americans were "already cycling back to our 'bad' car-buying habits."
In fact, it's more complicated than that. What's really happening is that Americans are downsizing to the smallest vehicle they can tolerate. But in many cases, that's just another kind of SUV—one that gets about 22 mpg. That's more eco-friendly than a Hummer, but this is hardly the era of conservation that some had predicted. Even gas-electric hybrids, which typically cost at least 15% more than conventional cars with similar mileage, are a tougher sell than they were just three months ago.
According to Edmunds, the number of people intending to buy a hybrid has been declining along with the fall in fuel prices. When gasoline prices peaked in July, says Edmunds, 700,000 visitors checked out hybrid cars. But in October, only about 150,000 did so. Meanwhile, J.D. Power & Associates (MHP) says that 36% of people who traded in large SUVs in November turned right around and bought another one.
You won't find a more mainstream American consumer than Brian Gingrass. The Austin (Tex.) restaurant owner just traded in his hulking, 14-mpg Ford Expedition for a smaller Ford Explorer that gets a less-than-impressive 18 mpg overall. Gingrass wanted to save money on fuel but didn't want to sacrifice too much cargo space. After all, he needs the SUV to cart around two kids, sometimes for camping trips. "Consumers tell us they don't want a small car," says Eric Noble, president of Carlab, an Orange (Calif.) auto consulting company. "They want something roomy and more fuel-efficient. And they're going to be able to get it."
But longer-term, those who still crave the capaciousness of a big SUV will have to pay up. Oil prices likely will rise again. And by 2015 tougher fuel economy rules will force automakers to sell fewer land yachts, or outfit them with pricey fuel-saving technology. Big SUVs will become, in effect, luxury vehicles—just as they were back before cheap gasoline put them within reach of the masses.
Before it's here, it's on the Bloomberg Terminal.
LEARN MORE