News Corp.'s Murdoch: Mired as Ever in Newspapers
A new book by Michael Wolff explores the mumbling, ferociously competitive man's obsession with the Wall Street Journal and other papers
Jon Fine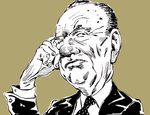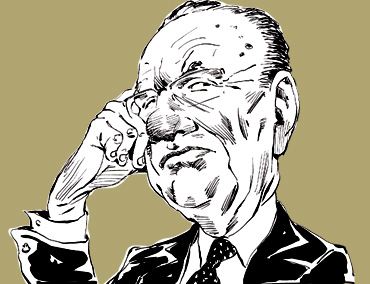 Michael Wolff's new book, The Man Who Owns the News, chronicles the career of News Corp. (NWS) Chairman Rupert Murdoch, using his successful $5.6 billion bid last year for Wall Street Journal parent Dow Jones as a key plot device. The book itself comes out as News Corp. stock trades at lows not seen since 1992, when Murdoch was clawing his way back from nearly losing his heavily indebted company to his bankers. All of this is more interconnected than it may appear. Wolff writes that last summer certain News Corp. executives were drily calling Dow Jones a $25 billion deal--the purchase price plus the $20 billion the market subsequently lopped off the company's market cap.
You can often sense his grievance when Wolff, a Vanity Fair columnist with whom I'm friendly, writes about those who run media companies. Implicit in his work is the idea that media was a lovely business until inept executives destroyed it. He has rarely applied this notion to Murdoch, for whom Wolff has long had a serious soft spot. Still, his book is no valentine. Wolff's Murdoch mumbles, dissembles, has cultural sensibilities predating Elvis Presley if not Rudy Vallée, and in conversation "sometimes dips into an alarming reverie in which he is either carefully weighing his words or napping." After-hours e-mails about one deal get to him through his third wife, Wendi Deng, "because her husband still doesn't use e-mail." When interviewed, Wolff (who's a serial media entrepreneur with an uninspiring track record) expresses more admiration for Murdoch's independence than for his successes: "I just like the idea of the guy who essentially pays attention to no one else."
The solo operator, the outsider who shapes a company with sheer will, can achieve great and atypical things. To cite only two examples, Murdoch invented Fox News Channel, and he has done well with his 20th Century Fox studio--because, Wolff writes, he owns it "not for glamour but for cash flow." But one of the book's most indirectly damning points, about Murdoch and other executives, is its claim that Murdoch invented the modern media conglomerate in the Eighties--as a means to generate more cash to buy more newspapers, the properties he best understood. "There was no grand strategy here. He was just an avaricious guy," Wolff tells me. "And [other media executives] said: 'Oh my God, Murdoch is doing this. We better do what Murdoch is doing.'"
Almost by definition, though, most couldn't. Their companies were set up to be attentive to shareholders and numerous competing interests. Murdoch, for good or ill, moves to an interior music no one else can hear. There was no strategy to Dow Jones. But Murdoch long wanted it and saw an opening, thanks to a controlling family, the Bancrofts, grown distant from both the paper and the mores of modern business. The younger Bancrofts, Wolff writes, "seemed like fools even to themselves." The book also recounts the fateful breakfast meeting in which Murdoch made his $60-a-share offer to Dow Jones CEO Rich Zannino, and the spectacle of the two executives parsing, if not rewriting, the conversation as it happens. Murdoch: "Did I just make an offer to you?" Zannino: "No, you didn't."
Today, News Corp. faces one of its sternest tests. The company's revenue from newspapers--still the largest piece of the portfolio--and TV stations will contract sharply next year. In a moment when even digital growth has been stilled, it's hard to see what kind of transformative deal Murdoch might conjure next. The question for News Corp. has always been who, besides Rupert, could run it successfully. But given this moment and its proprietor's inclinations, perhaps we should be asking if even Murdoch can. The overwhelming impression left by The Man Who Owns the News is that it's good indeed to be Rupert Murdoch, but under no circumstances should you try it at home.
Before it's here, it's on the Bloomberg Terminal.
LEARN MORE