Netbook Sales May Be Cutting Demand For Laptop PCs
Manufacturers and their suppliers are worried that soaring interest in netbooks is cannibalizing PC and laptop sales
By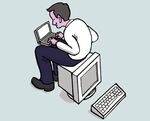 When Brian Pelowski started seeking a PC for his wife a couple of months ago, he wanted a machine that was lightweight and cheap. The couple are graduate students in Philadelphia and he's skittish about the rough economy. He opted for a pint-size $300 device known as a netbook instead of a traditional laptop, which normally costs at least twice as much. "She walks to school and can stick this in her big side bag without it taking up a lot of room or killing her shoulder," says Pelowski.
He's not the only one looking to save a few bucks. This year millions are expected to buy netbooks, a relatively new family of cheap, light PCs that can handle Web surfing, e-mail, and other basic tasks. Made by companies such as Dell (DELL), Hewlett-Packard (HPQ), and Taiwan's Asus and Acer, netbooks are one of the few bright spots in the tech industry. But their success may come at a cost: In some cases, pinched buyers are choosing netbooks instead of more expensive laptops—a potential problem for manufacturers because netbooks are typically less profitable than their bigger cousins.
It wasn't supposed to be like this. PC makers originally thought a netbook would serve as a person's third computer, complementing PCs in the home and office. But the economic slump has changed the equation, as consumers cut back. Jackie Hsu, president of Asus Americas, estimates 10% to 20% of netbook buyers would have bought more expensive laptops or desktops if netbooks weren't available. Marketing executive Sumit Agnihotry of Acer America puts the figure at 8% to 10%.
How far will the trend go? Sales of netbooks exploded this year to an estimated 11 million, up from 182,000 last year, according to research firm IDC. Analysts expect their popularity to rise as more computer makers introduce products and drop prices. "In this economy, people are going to buy on price more than ever," says Roger L. Kay, president of consultant Endpoint Technologies Associates. "[Netbooks are] the classic disruption: A cheaper, less capable competitor comes into the market and takes over."
Netbooks typically cost $300 to $500, but prices may slide. Wireless companies such as AT&T (T) and Verizon Wireless may subsidize netbooks if customers sign up for service contracts, just as they do with mobile phones. That could drop netbook prices to as little as $100. AT&T says it's "looking at" making such offers; Verizon Wireless declined to comment.
LOSING ON PARTS, TOO
Netbooks are already putting pressure on PC prices. IDC estimates the average selling price for a portable computer will drop 8% this year, to $1,018, and an additional 12% next year, partly because of netbooks.
PC makers aren't the only players who could lose out as netbooks grow more popular. The devices tend to use cheaper processors, displays, and software. In a Nov. 13 presentation, Citigroup (C) analyst Brent Thill called netbooks a "troublesome trend" for Microsoft. (MSFT) PC makers obtain the Windows operating system for netbooks at $15 to $25 per device—less than half the cost of the lowest-priced Windows XP for laptops, according to estimates by David Daoud, IDC's research manager.
During an October conference call, Microsoft Chief Financial Officer Christopher Liddell in part blamed netbooks for disappointing client revenue growth of 2%, against the 6% that had been forecast. "At this stage, it is too early to determine the extent to which the new netbooks segment is cannibalizing the traditional consumer PC market sales or simply capturing a new market opportunity, though we believe that there are likely aspects of both," Liddell said.
Matthew Wilkins, a principal analyst at consultant iSuppli, estimates that Intel (INTC)'s Atom processor, which powers many netbooks, sells for $35 to $40, compared with $150 for a traditional notebook chip. An Intel spokesman says the company has not seen widespread cannibalization so far. But "we are watching it closely," he says.
Before it's here, it's on the Bloomberg Terminal.
LEARN MORE