Don't Think of Cendant As a Total Financial Flop
Henry Silverman's conglomerate was unquestionably a catastrophe, but Cendant paid off handsomely for one man: Silverman
By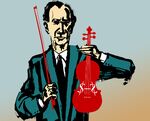 In this time of post-bubble introspection, it's actually instructive to study a company that is no longer. Cendant, the old travel, real estate, and leisure conglomerate, broke up into four pieces in 2006, having never really recovered from a late '90s accounting scandal. But it has reappeared in headlines this month because of the financial distress of offspring Realogy and the Avis Budget Group (CAR).
While many investors—public, private, equity, debt—have lost out, Cendant founder and Chief Executive Henry Silverman played several market cycles to take home north of a quarter-billion dollars so far this decade. It's the kind of disconnect you will increasingly hear about as credit remains tight, more buyouts go bad, and investors take stock of the market's worst yearly showing since 1931.
Cendant is survived by four separate companies: Realogy, Avis Budget Group, Travelport, and Wyndham Worldwide (WYN). Wyndham Worldwide traded in the mid-30s when it was spun off in mid-2006; now it trades at 4. In April 2007, Silverman sold Realogy—parent of Century 21 Real Estate and Coldwell Banker Real Estate—to private equity house Apollo Management for $6.6 billion.
Apollo's timing was less than stellar: Feeling the brunt of the ensuing meltdown in property values, Realogy registered $209 million of losses in the past three quarters and announced on Nov. 13 that it is at risk of violating the terms of its bank loans; its debt now trades as low as 15 cents on the dollar. But for stepping down as CEO to serve as Realogy's nonexecutive chairman, Silverman drew a lump payment of $50 million. The firm also fronted him $120,000 for car and jet rides. To find these tidbits you have to hole up with Realogy's heavily footnoted SEC filing and a scanning electron microscope. Otherwise, as Silverman proclaimed, he was only drawing a $1 salary.
Meanwhile, Realogy's car-renting cousin, Avis Budget Group, now has the keys to a 50 cents stock price. The Parsippany (N.J.) company warned in early November that it may violate its debt covenants, which would let lenders demand an early payback. It also posted a quarterly net loss of $1 billion, compared with a profit of $103 million last year.
Silverman, though, already took his payback on leaving Avis in 2006—a severance package worth $62.53 million, including lump-sum cash of more than $21.6 million.
None of which might have occurred without the veteran buyout specialist's talent for selling Wall Street on Cendant's supposed breakup appeal. (With Silverman incessantly acquiring or divesting something, there was always a fee to collect.) By the end of Cendant's run, according to Bloomberg, analysts' average price target for its shares was almost 50% higher than where they actually traded. Even so, as it was finalizing its 2006 breakup, Cendant revealed that Silverman's haul included $133 million in salary, bonus, and stock options. Silverman did not return calls seeking comment.
"He's legendary in the annals of outrageous pay," says Nell Minow, head of governance watchdog the Corporate Library. "The board was in his pocket and kept paying him more and more, no matter what."
True, out-of-whack compensation is hardly a new phenomenon. What is new: the extent of the heads-I-win-tails-you-lose executive arrangements that were struck in the dealmaking binge of the past five years. All the spin-offs, divestitures, and lever-ups that accomplished little more than payoffs for management, bankers, and lawyers. Keep an eye out for the pay packages emerging from distressed companies such as Chrysler, Harrah's, and Clear Channel.
Before it's here, it's on the Bloomberg Terminal.
LEARN MORE