Hard Times Hit Israel's Tech Sector
Suddenly many are out of work as the global recession slams the country's largest export industry
Neal Sandler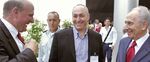 The number of résumés being e-mailed to Jobinfo, a leading Israeli high-tech recruitment company, has jumped by more than 50% in the past few weeks. Most are from recently laid-off workers in an industry that until not long ago was facing a manpower shortage. Several thousand have lost their jobs since the beginning of this month, and the number grows daily as the global recession starts to bite into Israel's largest export industry.
Local powerhouses like software billing company Amdocs (DOX), telecom software provider Comverse Technologies (CMVT.F), and optical inspection company Orbotech (ORBK) already have announced plans to trim hundreds from their workforces. The situation at the country's 2,000-odd startups is not much better.
"It's not as bad as 2001 yet, but if the current momentum continues we'll soon get there," predicts Ilana Achimeir, the chief executive of Jobinfo. The recruitment company also is being inundated with e-mails from high-tech workers whose companies have not yet cut back but are rumored to be on shaky ground.
Teach for Israel?
In an effort to cope with the rise in unemployment and a sharp drop in growth, Israeli Finance Minister Ronni Bar-On announced a $5.5 billion government stimulus plan on Nov. 19 that includes $100 million in new R&D funds for the high-tech industry. The plan also provides incentives for fired high-tech workers—many of whom are unlikely to find other jobs in industry—to be hired as teachers in science, math, and computers.
Until this summer the major concern of the local high-tech industry was the strength of the shekel (BusinessWeek.com, 7/23/08). But since peaking in July, the currency has dropped by more than 20% against the U.S. dollar. Nowadays the emphasis is focused instead on falling sales.
In October, Israeli high-tech exports fell more than 18% on an annualized basis—the first such drop in years. (High-tech exports accounted for 41% of Israel's $31 billion in industrial exports in the first nine months.) A survey by Bank Hapoalim (POLI.TA) predicts the downward trend will continue in the months to come, as global recession suppresses demand in Israel's major export markets, the U.S., Western Europe, and the Far East.
Even companies still holding their own are being far more cautious because of continued uncertainty. "As part of a consolidation following an acquisition, we've closed an R&D facility in France, cut back at our Swiss operation, and imposed an across-the-board wage freeze in an effort to cut costs," says Eli Ayalon, chairman and CEO of DSP Group (DSPG), a leading chipmaker for cordless devices from consumer-electronics giants such as Panasonic (PC) and Uniden (6815.T). The Herzliya-based company implemented the cost-savings measures even though it reported record results for the third quarter.
Wage Freezes
So far the R&D centers of U.S. technology giants like Intel (INTC), Google (GOOG), Microsoft (MSFT), IBM (IBM), and Cisco Systems (CSCO), which employ thousands of locals, haven't resorted to layoffs. "The R&D centers are crucial to the development of the next generation of products that will be going to market, so they will be the last hit in this crisis," predicts Moshe Zviran, a Tel Aviv University management expert who tracks high-tech manpower. But most of the big-name companies have instituted wage freezes and other cost-cutting measures.
The situation at Israeli startups is far more precarious. They have traditionally formed the backbone of the industry, yielding scores of success stories that have made Israel into a global center for high tech. Oddly enough, local startups raised $600 million in the third quarter, the highest amount in eight years. But the consensus is that financing will plummet by 50% or more in the coming quarters as money dries up.
A growing number of startups, including enterprise software developers Qlusters and Octavian, have been forced to shut down after running out of funds. "Even very strong companies must have two years of cash on hand to survive in these trying times," says Jonathan Saachs, general partner at Genesis Partners, a leading local venture capital fund.
In the past few weeks venture capital firms have been going through their portfolios and deciding on the fate of many of their investments. With exits through the public markets virtually impossible and merger-and-acquisition activity in a deep freeze, the firms have few options. "It's been brutal, and what it comes down to is the survival of the fittest," says a veteran Tel Aviv venture capitalist. He predicts a wave of closures in the next few months.
Widespread Gloom
The fight for survival is forcing startups to drastically cut back expenses. Medical equipment company Deep Breeze began commercial sales of its device for measuring lung function (BusinessWeek.com, 8/7/07) earlier this year but is still several years away from breaking even. "We've got money in the bank, but the uncertainty in the global economy is forcing us to take some very painful measures to guarantee that the funds last longer," says CEO Michael Nagler. The company has let go 30% of its staff, cut salaries of remaining management and workers, and reduced its use of outside consultants.
Others like Prime Sense, a developer of chips for 3D cameras, are avoiding layoffs but scaling back plans for hiring. The company began selling its chips to major consumer-electronics makers this year and is still expecting a substantial increase in revenues in 2009. "Our customers are still investing, but this could change, and we've got to be prepared for any eventuality," says Inon Beracha, CEO of Prime Sense. The company is increasing its outsourcing in Bulgaria, China, and India, where the cost of engineering manpower is about a third of going rates in Israel. The chipmaker also decided that local employees will have to drive their company cars for four years instead of three.
The continued uncertainty has led to a growing sense of gloom in Israel's high-tech industry. With a total dependence on exports to markets that are rapidly sinking deeper into recession, few anticipate the situation to improve any time soon. In the meantime, layoffs and consolidation are expected to continue as companies try to survive in a harsh new reality.
Before it's here, it's on the Bloomberg Terminal.
LEARN MORE