Congress to Detroit: What's Your Plan?
If the Big Three automakers can't come up with a radical plan that will satisfy Congress, they can kiss the $25 billion bailout goodbye
David Welch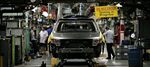 After going to Capitol Hill and begging for a $25 billion bailout, the three chief executives of General Motors (GM), Ford (F), and Chrysler have been sent away with a request for a "plan" by members of Congress. And if they want to get the taxpayers' money they so desperately need, they had better come up with something good.