Citigroup's Worries Mount
The bank's sinking shares indicate investors have lost confidence in CEO Vikram Pandit and it may be headed for a sale or another bailout
by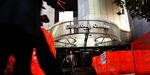 Investors are quickly losing faith in Citigroup (C). Shares of the company, once the largest and mightiest U.S. bank by assets and market value, have fallen 66% in November, and finished down 1.85, to 4.55, on Nov. 20. The last time the shares traded that low was 14 years ago. While the stock sank, the price soared on its credit default swaps, which measure the cost of insuring Citi's debt—another worrisome sign. The market woes are raising speculation that some sort of government intervention or major outside investment may be necessary.
Says William Fitzpatrick, an equity analyst at Optique Capital Management: "Clearly the solvency issue is back on the table."
Citi is doing its best to calm investors, reiterating that the bank isn't in critical condition. Citi issued a formal statement on Thursday, Nov. 20, saying that it "has a very strong capital and liquidity position and a unique global franchise. We are focused on executing our strategy, including our targeted expense and legacy asset reductions, and we believe the benefits will be seen over time."
Saudi Prince Pledges Support
Indeed, Citi has bolstered the capital on its books in recent weeks. Less than two weeks ago, the bank—which is now fifth-largest in terms of assets—received $25 billion from the federal government, one of nine commitments made to large banks for a piece of the $700 billion bailout. Citi also received new assurances from Saudi Prince Alwaleed bin Talal, once the bank's largest shareholder, who said publicly he intended to increase his stake by $350 million, to 5%, from less than 4%, and pledged "full and complete support to Citi management."
After the Nov. 20 market close, analyst Richard X. Bove of Ladenburg Thalmann (LTS) dashed off a note reiterating his buy rating for Citi, arguing that the bank has positive net free cash flows, a strong capital base, and a diversified business base. Bove says in the end "cash flows are all that matters" and that it would "take a Depression every bit as large and long as the 1930s debacle to shake this company's viability.…I would be a buyer of this stock."
Still, the market shrugged off the support and Chief Executive Vikram Pandit continues to lose market confidence. Says Len Blum, managing director of Westwood Capital: "I don't think that Pandit has really shown the market that he has any direction. They are turning into an also-ran."
Counting on the Consumer
Losing the Wachovia (WB) acquisition to rival Wells Fargo (WFC) in October was "a big blow" to Citi, says Blum, and now "every one of its employees is absolutely distracted for fear of losing their jobs. They're not calling on accounts and clients." On Nov. 17, Pandit announced a plan to eliminate 52,000 jobs (BusinessWeek.com, 11/18/08) as part of a program to cut expenses 20%. William B. Smith of Smith Asset Management in New York says it's not enough and has renewed his call for a breakup: "The board and management have breached their fiduciary responsibility to shareholders and employees. Can [anyone] still justify Pandit?"
Mostly, the market is spooked by two large unknowns: What is the extent of damage and losses in the bank's derivatives portfolio, and how bad will the consumer downturn continue to pressure results?
The consumer business is Citi's bread and butter. As of the third quarter, revenues of $16.68 billion in its global cards and consumer-banking business made up 67.3% of the bank's total net revenues. But that business is sinking and fast. Revenues in the global cards business fell 40% in the quarter. In the portfolio of consumer loans that includes the U.S., serious delinquencies are skyrocketing. For instance, the percentage of some $202 billion in residential mortgages more than 90 days late in the third quarter more than doubled, to 3.85%, up from 1.76% a year ago. Serious delinquencies in the $19.7 billion auto loan portfolio are up to 1.78%, from 1.26%.
Unknown Derivatives Exposure
What's worse is that these numbers don't account for the "October from Hell," when consumer spending fell off a cliff, according to Martin D. Weiss, founder of Weiss Research. According to a Commerce Dept. report, U.S. consumer spending, which accounts for nearly two-thirds of the economy, fell by 4.1% in October from a year earlier. That was the sharpest decline since at least 1992. All signs point to more household belt-tightening as unemployment numbers rise and house values continue to fall.
Analysts also perceive Citigroup's derivatives exposure to be a black hole. The bank is the second-largest player in credit derivatives, the riskiest sector of the derivatives market, with a $3.6 trillion portfolio. "Many suspect that they don't even know what they have," says Philip van Doorn, banking analyst with the Street.com Ratings. Its exposure to the risk of failure by its trading partners is huge: For each dollar of Citi's capital, it has $2.58 in risk exposure.
There's another headache for Citi to deal with. On Nov. 19, the bank also agreed to acquire the remaining $17.4 billion in structured investment vehicle assets it advises and bring those assets on its balance sheet. Analysts worry that the value of these assets is inflated. "There's a concern that there are more losses hidden on the balance sheet," says Optique's Fitzpatrick. "And that Citi isn't going to be able to raise more capital into 2009."
"On the Razor's Edge"
Citi is lobbying lawmakers and the Securities & Exchange Commission to reinstate a ban on the short-selling of financial stocks, The Wall Street Journal reported Nov. 20 on its Web site, citing sources familiar with the matter. The company is also seeking a reinstatement of the "uptick rule," which requires investors to wait until a company's stock goes up before short-selling it, according to the Journal.
"We're getting to the critical doomsday question: What happens when a megabank like Citi fails," says Weiss. He says the bank is "on the razor's edge. The biggest banks are not just important to the banking system, they are the banking system. All this starts to get into the neverland of uncertainty. No one really knows what happens next."
Before it's here, it's on the Bloomberg Terminal.
LEARN MORE