Vulnerable Computers
NASA's networks and Web sites, built to be accessible to contractors, have suffered numerous intrusions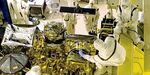 1998
The ROSAT satellite, which gathers images of deep space, is rendered useless after it suddenly turns toward the sun. Investigators blame a Russian intrusion into the satellite's control system.
2002
A cyber-intruder infiltrates the computer network at the Marshall Space Flight Center in Huntsville, Ala., stealing secret data on rocket engines, which are thought to have made their way to China.
2005
Work at the Kennedy Space Center is delayed when employees discover that an outsider had prowled NASA's computer network for seven months.
2004
NASA's Ames Research Center in Silicon Valley suffers serious cyber-violation, requiring a technician to pull the connection between supercomputers and the Internet to minimize loss of secret data.
2006
Hackers using a malicious e-mail break into computers at NASA headquarters in Washington, forcing top officials to surrender their compromised PCs.
2007
Electronic prowlers get into the network of the Earth Observing System, a series of satellites controlled from the Goddard Space Flight Center in suburban Maryland.
Data: NASA, BusinessWeek research
Before it's here, it's on the Bloomberg Terminal.
LEARN MORE