Look Who's Doing O.K. in the Music Business
Doubted by skeptics, Warner's Edgar Bronfman is gaining share in an industry searching for strategies
Tom Lowry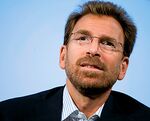 Back in 2004, when Edgar Bronfman Jr. and his private equity partners took control of storied Warner Music Group (WMG), expectations for the new management were anything but lofty. After all, Bronfman was widely derided in those days as a dynastic bumbler who while at Vivendi Universal lost billions of his family's fortune. And the music business was in crisis. Even now, Bronfman equates running Warner with flying a plane while fixing the engine.
Yet he has managed to do something that has eluded his rivals over the past four years: boost album sales, which still account for the vast majority of revenues in recorded music. Even as such rivals as Sony/BMG and EMI were sidetracked by management turmoil, Bronfman, 53, focused on the basics—nurturing artists who can move records. He and his lieutenants declined to comment, citing a quiet period ahead of Warner's fiscal-year earnings report on Nov. 25. But amid all the industry upheaval, Bronfman's achievement hasn't gone unnoticed. "Edgar," says Laura Martin, an analyst at Soleil Securities Group, "has shown real leadership."
None of this is to say Bronfman has solved the music industry's central conundrum: how to prosper in a digital age. Like most of its rivals, Warner continues to post anemic operating profits and essentially flat revenue growth. But closely guarded industry sales numbers reviewed by BusinessWeek show that Warner has opened up a surprising edge over its competitors. Warner's album sales—which include physical CDs, digital albums, and digital tracks (10 singles are now counted as one album)—are up 5% for the first 10 months of 2008 vs. the same period in 2004, when Bronfman arrived. Sounds less than thrilling—until you consider that Warner Music's rivals suffered double-digit declines.
How did Bronfman do it? He cut Warner's artist roster nearly 30%, ditching more than 50 acts that were no longer selling well. He refused to pay big bucks to keep the likes of Madonna and Nickelback out of rivals' hands. And he found some $300 million in annual cost savings. Result: Warner had more time and money to focus on new potential hitmakers.
FRESH ANGLES
Other music companies have slashed budgets for artists and repertory (A&R), the department that finds and nurtures talent. Not Bronfman, whose hundreds of scouts spend their nights in clubs, from Manchester to Seoul, and their days on MySpace (GOOG), finding new chart toppers such as James Blunt, Gnarls Barkley, and Panic At The Disco. The strategy is paying off: Warner's share of U.S. sales of new releases is up 7% since 2004, vs. a decline of 2% for the rest of the industry, according to Nielsen SoundScan, which tracks music sales.
All to the good. But doesn't the recording industry need to reinvent itself big time? It does, and Bronfman knows that. He was the first to package interviews and concert footage with digital albums as bonus features and charge a premium for them. Like his rivals, he's embracing ringtones and ad-supported music Web sites. He is licensing more songs for TV and movies. He is taking a piece of artists' concert and merchandising earnings. But making serious money from these initiatives remains a ways off. In the meantime, Bronfman is shoring up the traditional side of his business: finding hot acts and selling millions of their albums.
Before it's here, it's on the Bloomberg Terminal.
LEARN MORE