In Search of a Business Model
Facebook has been developing a business model designed to go beyond traditional online advertising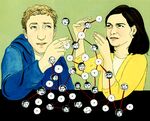 ADVERTISING
This is likely to be Facebook's largest revenue stream. The idea is to use all the personal information and relationships of users on the site to generate highly relevant ads that will generate clicks. Advertising will bring in an estimated $200 million to $225 million this year.
E-COMMERCE
Facebook isn't trying to be eBay (EBAY) or Amazon (AMZN). But company executives believe that with more than 160 million users worldwide, the site can become a sort of digital marketplace. Its first hot item: virtual gifts that sell for $1 a pop. Facebook could pull in $30 million to $40 million this year from items such as virtual cupcakes and guitars.
APPLICATIONS
The company wants to make money on software developers who build applications for the site. Facebook may try to get a cut of the advertising dollars or other revenue these developers bring in. That would be controversial, since Facebook attracted developers in part by telling them it would not interfere with their money-making activities on the site.
Before it's here, it's on the Bloomberg Terminal.
LEARN MORE