Baillie Gifford Expands in the U.S.
The Scottish money manager will run more mutual fund portfolios for America's Vanguard
Amy Feldman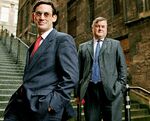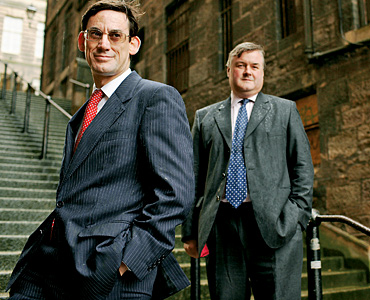 The day of reckoning for the overleveraged, free-spending U.S. consumer has finally arrived, just as the stockpickers at Scottish money manager Baillie Gifford have long anticipated.
The firm, which oversees $83 billion, including parts of four funds for Vanguard Group, has avoided owning stocks of major financials and retailers. Instead, it has been betting on the growth of developing economies—especially infrastructure plays in those emerging markets.
While emerging-market stocks have been especially battered recently, partner Edward Hocknell points to China's economic stimulus plan targeting infrastructure as reason for optimism. The U.S. and many other countries caught up in the current recessionary slowdown are also likely to fund big new public works projects to reduce growing unemployment. "We think what will get us out of the hole will be infrastructure spending," Hocknell says. "It won't be a consumer recovery but an industrial one."
Expecting industrial spending, both government-fueled and private, to lead the next economic revival has led Baillie Gifford managers to continue betting on companies such as the Brazilian energy giant Petroleo Brasileiro (aka Petrobrás) and Sweden's Atlas Copco, a maker of compressors and construction equipment whose sales have grown considerably in emerging markets. "We are very overweight in areas that are dirty and smelly—mining and engineering—because emerging markets have huge reserves to spend on their infrastructures," Hocknell says.
That's not to say Baillie Gifford's managers can afford to ignore the spreading credit crisis. They're digging harder into companies' balance sheets to search for red flags that could signal problems with too much debt. And like other smart managers today, the firm is taking advantage of the extreme market declines to buy beaten-down stocks. In October the firm added to its large holdings in Petrobrás (PBR) when the stock collapsed along with oil prices. "We aren't inclined to change strategy quickly just because of a little thing like the world coming to an end," Hocknell says dryly.
That long-term focus helps Baillie Gifford escape the "benchmark-itis" so common in money management. Chief Investment Officer James Anderson explains that before buying a stock, managers must explicitly answer two questions: What is the outlook for the firm in five years? And what does Baillie Gifford know that other investors don't? By contrast, firms that make investing decisions based on a benchmark index may be forced to include ailing stocks or weak industries. "People get sucked into deciding what is the most attractive bank in Britain, and they cannot afford to say that there is no attractive bank in Britain," Anderson says.
While avoiding British banks and most other financial stocks, Baillie Gifford continues to favor Zurich's flailing financial giant, UBS (UBS), which it first bought into in 2003. There is some danger UBS could be dragged down further by bad loans and investments, following in the path of some big U.S. banks, Anderson notes. But if UBS survives the current turmoil, the bank's stock would skyrocket on the strength of its gigantic wealth management business. "We could easily make multiples of our money. Equally, it could turn out to be a continuing disaster," Anderson says. "If we had a Swiss analyst or a bank analyst who had to take all the flak for that decision, it would be harder to stick with it."
Most U.S. investors have never heard of Baillie Gifford, but they're increasingly likely to have a piece of their portfolios run by the Edinburgh firm as it expands in the U.S. Clients include mutual fund giant Vanguard, for which Baillie Gifford managed nearly $7 billion at the end of the third quarter; Guardian Life Insurance, for which it runs nearly $1 billion in retail funds, separate accounts, and annuity products; and 7 of the top 15 U.S. pension funds, including California Public Employees' Retirement System. Nearly 30% of Baillie Gifford's assets, or $23 billion of a total $83 billion at the end of September, were managed for U.S. investors. "Overseas has become the fastest-growing part of the business," says joint senior partner Alex Callander, the closest thing Baillie Gifford has to a chief executive.
Vanguard tapped the firm to manage part of two more funds, Vanguard Global Equity and Vanguard Growth Equity, in April. The Scots had already run pieces of Vanguard International Growth and Vanguard Variable Insurance since 2003. They also manage two retail funds for Guardian: RS Emerging Markets and RS International Growth. "They don't care about the current quarter or the next quarter of earnings. They are trying to develop opportunities over the next few years," says Joe Brennan, head of Vanguard's portfolio-review team. "Their growth has come because they have performed well, not because they are a marketing machine."
Until the financial crisis hit, the firm's asset growth was going gangbusters, with the 100-year-old partnership chalking up stellar returns thanks to early bets on the growth of China and other emerging markets, as well as infrastructure and energy picks. For the five years through this past June, according to the firm's data, its emerging-markets institutional composite portfolio posted an average annualized gain of 34.1%, vs. 30.2% for the MSCI Emerging Markets Index. Their international institutional portfolio gained 20%, vs. 17.2% for the MSCI Eafe index.
But Baillie Gifford wasn't able to avoid the sharp declines hitting nearly every market in recent months. For the 12 months through the end of September, with stocks battered and emerging markets especially pummeled, its emerging markets portfolio lost 33.9%, trailing its benchmark by almost one percentage point, while its international portfolio fell 28.5%, vs. a 30.1% decline for its benchmark.
OLD-FASHIONED PARTNERSHIP
As money managers have gone public, merged with competitors, or been bought up, Baillie Gifford looks increasingly like a throwback to a more genteel era. Founded in 1908 as a law firm by Colonel Augustus Baillie and T.J. Carlyle Gifford, it is run as "an old-fashioned Scottish partnership," says Hocknell. The firm's 33 partners own Baillie Gifford and make decisions collectively. Senior management is young—Callander, a Cambridge math graduate, is 48 and has been in the top role for seven years—and partners retire by age 60.
Baillie Gifford's success over the past century, partners say, is the result of its partnership structure and its distance from Wall Street, which makes it easier to ignore the financial noise and obsession with short-term returns that lead many investors astray. Its patience during the current financial crisis may also be tied to its partnership culture. While assets have shrunk dramatically during the past few months as markets declined, Baillie Gifford says it has not lost any clients.
As for U.S. stocks and the American economy, Baillie Gifford's managers have become less pessimistic as the financial crisis has gotten worse. While that may seem counterintuitive, they believe U.S. homeowners are coming out of denial about the bubble, and they think U.S. regulators are doing a better job than their European counterparts. Still, in their view, the best prospects are elsewhere. As Anderson says: "We think—no disrespect—that the center of the global economy will continue shifting to Asia over the next five years."
Before it's here, it's on the Bloomberg Terminal.
LEARN MORE