business
Auto Execs in the Hot Seat
GM, Ford, and Chrysler CEOs face tough Senate questions over why the U.S. should hand them billions, and whether it'll do any good
By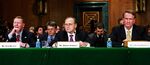 WASHINGTON—Chief executives of the three U.S. automakers tried to persuade key members of the Senate that they deserve at least $25 billion in government loans to help the industry survive the current economic recession, and that the taxpayers can expect to be repaid in the future. From the response they got, it will be a tough sell.
For two weeks, since General Motors (GM) revealed that it lost $4.2 billion in the third quarter and might not have enough cash to last the year (BusinessWeek.com, 11/7/08), Republicans have voiced opposition to helping Detroit. Democrats, meanwhile, have been angling to help either by using a portion of the $700 billion Wall Street bailout approved by Congress in October or a new $25 billion attached to an economic stimulus package.
All of that ramped up the anticipation for the Nov. 18 appearance of the Big Three CEOs—GM's Rick Wagoner, Ford's (F) Alan Mulally, and Chrysler's Robert Nardelli—before the Senate Banking Committee. The auto executives will continue their lobbying campaign Nov. 19 at the House of Representatives.
See You Next Year
But Capitol Hill staffers and key leaders said the chances of passing new legislation to help the automakers during the lame-duck congressional session were scant. "I don't think we can get the votes," said Senator Chris Dodd (D-Conn.), chairman of the banking committee. Senator Bob Corker (R-Tenn.) told the CEOs, "Nothing will get done this week, and I suspect you'll be back in January."
Still, the company CEOs and United Auto Workers President Ron Gettelfinger used the hearing to try to knock down some extremely negative perceptions about how they got to this point. And they took pains to make clear that they consider the situation dire.
GM and Chrysler indicated that without loans from the government, they will be below minimum cash requirements by end of the first quarter of 2009. GM's Wagoner said his company will have about $15 billion in cash at the end of the year. Nardelli said Chrysler has $6.1 billion now. "That is getting very close to our minimum needs of liquidity to operate," Nardelli told the Senate committee.
Ford said it can last into 2010, unless the market gets appreciably worse. But it worries that a GM or Chrysler failure will trigger the failure of hundreds of auto suppliers, freezing Ford's production and thus driving all three companies and an array of suppliers into Chapter 11 reorganization. GM is asking for $10 billion to $12 billion in loans. Chrysler has asked for $7 billion, and Ford, $7 billion to $8 billion.
Still, all three companies say their outlook beyond the immediate financial crisis is much brighter than generally understood. The auto execs say that dozens of plant closures and deals with unions should cut costs enough to make them profitable when the economy and auto sales turn up again. Many analysts expect sales to rebound by mid-2010.
Is Detroit to Blame?
But it was clear from the statements and questions posed by Senators to Wagoner, Mulally, and Nardelli that many think Detroit's problems are self-inflicted, and that the companies lack the innovation to climb out of their hole.
Dodd pulled no punches: "They have derided hybrid vehicles as making 'no economic sense.'…They have dismissed the threat of global warming…their boardrooms and executive suites have been famously devoid of vision." Even so, Dodd said, "I support efforts to assist the industry."
Republican Senators Richard Shelby of Alabama and Elizabeth Dole of North Carolina were among the vocal critics of the car companies. Both Alabama and North Carolina have benefited from investment from European and Asian automakers and their suppliers.
Congress Is Partly to Blame
Senators closer to Detroit's home turf, such as Sherrod Brown (D-Ohio) and Debbie Stabenow (D-Mich.), came to the automakers' defense. Not helping the industry, said Brown, "is the surest way to turn our recession into a depression." He said the Congress should take some blame for not passing tougher fuel-economy legislation that would have better prepared the companies for $4-per-gallon gasoline that decimated sales of sport-utility vehicles that Detroit has relied on for profits: "We are on shaky ground when we shake our finger at the industry."
Though all three CEOs were present, much of the focus was on GM Chairman and CEO Wagoner because the company is the largest of the three, and is closest to having to file for bankruptcy if government loans don't come through. Last week, GM told members of Congress that its chances were "50-50" to have enough money to operate beyond the New Year.
Wagoner leaned on the argument that it would be cheaper to help GM and the other companies with loans than allow a cascading failure of the companies. "The societal costs of a GM failure," said Wagoner, "would be catastrophic, with 3 million jobs lost within the first year…and a government tax loss of $156 billion in three years."
Credit Crunch Is a Culprit
The companies themselves are not the only target of derision on Capitol Hill. The UAW has been singled out by many critics of Detroit for being a bloated, spoiled, and overpaid workforce that has bullied the automakers into paying wages and benefits far out of line from what Japanese companies like Toyota (TM) pay their U.S. workers.
Gettelfinger focused his testimony on attacking criticism from Congress and several media commentators who have opposed the bailout in the past few weeks. "The current crisis can't be blamed on the Detroit-based companies producing gas-guzzling vehicles," said Gettelfinger. "Nor can it be blamed on overly rich union contracts." The union chief emphasized the negative effect of the credit crunch on the ability of consumers to get car loans, and the subprime mortgage and credit crisis that has skewered the broader economy.
Several Capitol Hill staffers this week said the measure that stands the best chance of passing during the lame-duck session of Congress is a revision of the 2007 energy bill that would immediately free up $25 billion in loans to retool plants. That money might otherwise take years to flow to the companies. But Gettelfinger surprised some by saying the union is against speeding up those funds. "This program was not designed to address the type of immediate cash-flow crisis that the Detroit-based auto companies are now facing as a result of the sudden drop in auto sales," Gettelfinger said.
Counting on Obama
That position, shared by Speaker of the House Nancy Pelosi (D-Calif.) and House Financial Services Committee Chairman Barney Frank (D-Mass.), may be dangerous. Advancing the green factory funds might provide enough liquidity to keep GM operating until the Obama Administration can act directly to help the auto industry in late January. Democrats and the auto companies are counting on Obama's willingness to tap some of the $400 billion that will be left in the Wall Street bailout fund in January.
"I reject that this is the only way we can help the auto industry, just because it's the way Republicans want to get it done," Frank told BusinessWeek. Frank also says he is not in favor of using the Wall Street funds for the auto industry. But his support may not be needed.
The union president also said he would not support tying immediate loan help to tougher fuel-efficiency standards. "It is not appropriate to hold emergency assistance hostage to broader fuel economy/environmental initiatives," Gettelfinger said.
Ford's "Bright Future"
Ford's Mulally acknowledged that some critics want to see a new business model in Detroit before putting billions of taxpayer dollars in play. "I completely agree…what many commentators and critics fail to recognize, however, is that we at Ford are on our way to realizing a complete transformation of our company—building a new Ford that has a very bright future," Mullaly said. On the same day, other Ford executives were in Los Angeles unveiling two gas-electric hybrid vehicles that get better mileage than rival Toyota products.
Ford has closed 17 plants in North America—including one third of its assembly plants—in the last five years. The company has reduced its workforce by 51,000 people in three years, and its hourly workforce has fallen from 83,000 to 44,000. Salaried headcount is down to around 12,000, from 33,000 in 2004.
"Speaking only for Ford, we are hopeful that we have enough liquidity based on current planning assumptions and planned cash improvement actions, but we also know we live in tumultuous times," said Mulally, who came to Ford two years ago after 37 years at Boeing (BA).
Fear of Helping Hedge Funds
But, Mulally said, "If any of the domestics should fail, we believe there is a strong chance that the entire industry would face severe disruption."
The presence of Chrysler in the hearing presented problems for some members of the committee. The automaker is owned by hedge fund Cerberus Capital Management, and some worry that taxpayer money will be used to enrich the billionaires who run it.
Chrysler CEO Nardelli attacked that concern. "Cerberus Capital Management has made it clear that it will forgo any benefit from the upside that would in part be created from any government assistance that Chrysler may obtain." Nardelli tried to convince the lawmakers that bankruptcy would be a dangerous unknown that could cost some 3 million jobs and the futures of all three companies. "We cannot be confident that we will be able to successfully emerge from bankruptcy," he said.
Before it's here, it's on the Bloomberg Terminal.
LEARN MORE