An M&A Boom in Debt Collectors
M&A is heating up as buyers see a promising future in pursuing consumers' unpaid bills
Jessica Silver-Greenberg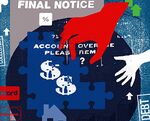 Not all dealmaking is dead. While many private equity firms, corporate buyers, and vulture investors have been scared off by the credit crunch, a flurry of activity is still occurring in one industry: companies that collect and buy consumer debt.
So far this year, $1.8 billion worth of mergers and acquisitions have been done in that business, compared with $1.65 billion in all of 2007. Meanwhile, overall M&A has dropped 26%, to $892 billion, in the first three quarters, according to Thomson Reuters. "Money never sleeps, and neither does the need to collect it," says Charlene A. Davidson, a senior managing director at researcher McGladrey Capital Markets.
It's the ultimate bet against the global economy. As more consumers fall behind on their bills, the debt business is booming. Municipalities are recruiting debt collectors to wrangle taxes from residents. Troubled banks are selling off soured credit-card and other loans to bolster their books. Hospitals are enlisting firms to track down delinquent patients. The industry's revenues—currently around $17 billion—are expected to grow 6% annually for the next three years.
Those prospects are enticing a host of players, big and small. In June, Swedish private equity firm Investor AB bought a majority stake in one of Europe's largest debt collectors, Lindorff Group, for $560 million. GFKL Financial Services, a German outfit that counts Goldman Sachs (GS) among its owners, snapped up debt collector Multigestin in Madrid.
International players are angling for a piece of the U.S. market as well. Mumbai-based Firstsource Solutions paid $330 million for MedAssist in Kentucky last October. The deal gives them entrée into the burgeoning business of medical debt, collecting outstanding bills for hospitals, doctors, and dentists. The field is growing as the ranks of uninsured Americans swell.
Understaffed cities and towns are increasingly outsourcing their collection efforts, too. In recent weeks the city council of Hamilton, Ohio, hired Municipal Services Bureau to track down residents who owe back taxes, parking fines, and other debts. NCO Group, a debt collector owned by JPMorgan Chase's (JPM) private equity arm, bought smaller rival OSI earlier this year, gaining ground in federal and municipal debt collection.
That doesn't mean the current conditions aren't challenging. NCO, for example, is having a tough time getting consumers to pay up. On Nov. 18, the company reported it had set aside $34 million for bad loans, contributing to a $26.5 million loss in the latest quarter. "This is a much tougher collection environment," says Brian Callahan, NCO's vice-president for financial reporting. But "we see a potential opportunity to buy well-priced debt."
Plenty of cash-rich companies are digging through the wreckage. Debt buyer Encore Capital Group (ECPG) recently scored $5 billion worth of soured credit-card loans from Bank of America (BAC), Capital One (CDF), and Citibank (C), paying 3 cents on the dollar, or $150 million for the lot. Rival Portfolio Recovery Associates (PRAA) purchased $857 million worth of debt for $52 million, a 94% discount.
UNSAVORY REPUTATION
What's good for debt collectors, though, may be troublesome for consumers. Critics fear the industry, long known for its bare-knuckle tactics, will become more aggressive as more borrowers struggle amid a weak economy. Gerri Detweiler, of advocacy group Credit.com, says she's fielding countless complaints about debt collectors. One consumer, she says, claimed a company called neighbors and relatives, sharing private details about the debt—in violation of federal laws. "It's a mature, professional industry," says McGladrey's Davidson. But "in the eyes of the consumer being chased, these companies are never going to look good."
Before it's here, it's on the Bloomberg Terminal.
LEARN MORE