Retail Bankruptcy: Only the Strong Will Survive
With sales plummeting and no financing available for reorganization, struggling retailers such as Bon-Ton and Dillard's may be in big trouble
By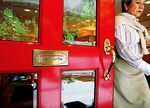 This holiday season, any retailer not named Wal-Mart (WMT) has reason to worry. Paltry profits and debt-laden balance sheets mean some players are facing not just tough times, but potential extinction. With U.S. retail sales taking a record 2.8% dive last month and Deloitte Research's consumer spending index turning negative for the first time since 1980, the climate is unforgiving. Big names such as Circuit City (CCTYQ), Linens 'n Things, and Steve & Barry's are among the 22 merchants that have already filed for bankruptcy this year. While retailers who filed for bankruptcy in recent years often could live to see another day, that may no longer be true. "You can't get the financing to reorganize, so we are in a world of liquidation," says Howard Davidowitz, chairman of retail consultancy Davidowitz & Associates.
The question now is: Who is most at risk? Retailers who are No. 2 or 3 in their categories—witness Circuit City's position relative to Best Buy (BBY)—look particularly vulnerable. Not only are they likely to face steeper sales declines than stronger rivals, but many took on excessive debt to fund expansion amid the cheap interest rates of recent years. The number of credit rating downgrades for retailers from Standard & Poor's this year—53—has already surpassed the total for all of 2007, and S&P says it's likely to issue more before yearend. "It's been a long time since we've seen an environment as challenging as this," says Deloitte Research Chief Economist Carl Steidtmann.
Analysts are keeping a close eye on regional department stores such as York (Pa.)-based Bon-Ton (BONT) and Little Rock-based Dillard's (DDS). Both chains have long been dwarfed by the likes of Macy's (M), Kohl's (KSS), and J.C. Penney (JCP) and have seen their credit ratings slip in recent months in light of falling sales and rising leverage.
Bon-Ton, with same-store sales down 6.3% so far this year, looks the most challenged, analysts say. The chain has heavy debt after spending more than $1 billion to buy 142 stores from Saks (SKS) two years ago, and its stores are mainly in the struggling Rust Belt. While Bon-Ton declined to comment, it issued a statement on Nov. 6 to say the chain has "excess borrowing capacity" under its credit facility. As S&P analyst Diane Shand notes: "The big worry is whether their vendors get nervous and don't ship to them."
Dillard's, meanwhile, has already closed 20 of its 330 stores this year amid a 6% sales decline, with more closings planned for 2009. It's also facing investor pressure to overhaul senior management, which is dominated by members of the founding Dillard family. Dillard's says it currently has plenty of room to borrow under its $1.2 billion credit facility, but Fitch credit analyst Monica Aggarwal argues declining sales and profit margins will pressure the company "for an extended period of time." Analysts are skeptical about the chain's ability to turn itself around.
Women's apparel shop Talbots (TLB) is another retailer to watch. Same-store sales in its third quarter dropped 14%, and the company recently decided to jettison the J. Jill casual clothing brand it bought two years ago for a half-billion dollars. The issue is whether they'll find anyone to buy it. "J. Jill was an asinine acquisition," says Antony Karabus, CEO of retail consultancy Karabus Management. Talbots, which has begun offering heavy discounts, declined to comment. For all the struggles of the holiday season, industry observers agree that the real shakeout could come in January. As Neil Stern of retail consultancy McMillan Doolittle says: "It's going to get very ugly post-Christmas."
Business Exchange related topics:RetailRecession Spending and InvestingSales Strategies
Before it's here, it's on the Bloomberg Terminal.
LEARN MORE