What's Red-Hot And Green All Over?
Eco tech outfits are among the up-and-comers thriving with help from their governments
Kerry Capell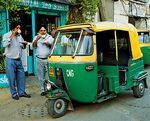 For 50 years, Italy's Landi Renzo struggled to persuade the auto industry to buy its technology for making cars run on natural gas. While manufacturers showed little interest, Landi Renzo eked out a business selling to auto repair shops that retrofit cars for eco-conscious drivers. But lately, amid worldwide concern over carbon emissions and fuel prices, the company's fortunes have taken a U-turn. Since 2003, Landi Renzo's sales have quadrupled, to $262 million, as the likes of Volkswagen, General Motors, and Fiat buy its technology. Today its systems are used in cars, trucks, and even auto rickshaws (three-wheeler taxis common across Asia) in scores of countries. "Manufacturers now realize fuel conversion systems can be an important selling point," says Corrado Storchi, Landi Renzo's marketing manager.
Landi Renzo is one of an increasing number of European companies that have jumped on a clean, green growth machine. In recent years, Europe's policymakers have introduced a raft of rules and regulations to combat climate change and reduce dependence on oil. That has helped boost sales at technology upstarts and old-line manufacturers alike. Such companies are strong performers on BusinessWeek's Hot Growth Europe list, an annual ranking of the fastest-growing publicly traded European companies with sales of less than $1.3 billion, based on data from Standard & Poor's Compustat.
The list includes more than a dozen companies that profit from green technology. No. 1 is EnviTec Biogas, a German builder of power plants that run on organic waste. PV Crystalox Solar, a British company that makes crystalline silicon wafers used in solar cells, is No. 7, Landi Renzo comes in at No. 9, and French recycling outfit Auréa is No. 47. "The global market potential [for green technology] is massive," says Jörg Fischer, chief financial officer at EnviTec.
Europe's green upstarts, of course, aren't immune to the economic downturn. PV Crystalox Solar, for instance, has prospered as prices for silicon have more than doubled over the past five years. But many analysts believe the industry may soon face a silicon glut, sending prices spiraling downward. And while just about any green-technology company looked like a great bet as oil skyrocketed past $140 a barrel last summer, many renewable-energy projects seem less attractive as crude prices have plunged in recent months.
In Germany, the impact of falling energy prices has been mitigated by government incentives for producing clean power. One important measure offers a 20-year guarantee of premium rates for renewable energy fed into the national grid. The rate is offered to everyone, from industrial power plants to consumers with rooftop solar panels. The idea has been exported elsewhere around the Continent and is being considered in Australia and some U.S. states. "The German model has become the template," says Andreas Hänel, chief executive of Phoenix Solar (No. 27), a builder of solar power plants.
Rivaling coal
Solar energy has gotten the biggest bounce from the German incentives. Phoenix Solar expects sales of $476 million this year, up from $5 million in 2000. Other beneficiaries include Solar Millennium (No. 54), which uses giant mirrors to heat steam that runs a turbine, and Q-Cells (No. 44), which produces cells that convert sunlight into electricity. The government guarantees of higher prices for clean power have spurred Q-Cells to invest $1.2 billion in its operations over the past two years. To spend that kind of money, says CEO Anton Milner, "you need a certain amount of planning security from the government."
In time, the industry will have to wean itself from government support—a day that may come surprisingly soon. Milner reckons that within two years, electricity from solar will be competitive with coal-generated power in Italy, a country with ample sunshine and relatively high energy prices. By 2020, solar may account for 2.5% of European electricity consumption—enough to meet the household needs of 65 million people—up from 0.2% today, says Thomas Gregory, an analyst at Emerging Energy Research in Cambridge, Mass. He says the solar industry will expand 25% annually for years to come, so expect to hear plenty more from Europe's green-tech upstarts. "That kind of growth," Gregory says, "will be hard to beat."
Before it's here, it's on the Bloomberg Terminal.
LEARN MORE