The Star of a Real Estate Reality Show Takes a Housing Hit
Speculator Jeff Lewis of Bravo TV's Flipping Out scrambles to regroup in the downturn
By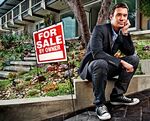 To the 1 million viewers of Bravo's reality show Flipping Out, Jeff Lewis is the acerbic, demanding, and sometimes petulant face of real estate speculation. In the program's first two seasons (already in reruns), Lewis turned a hefty profit buying and updating homes to sell in Los Angeles' toniest neighborhoods. At the start of the year he sold a 1,900-square-foot house to Lost star Dominic Monaghan for $1.6 million.
But as the cameras stopped shooting seven months ago, the housing market went from slowed to stalled, leaving the 38-year-old speculator, as he says, "paralyzed." Lewis has been mired for months in a dispute over the boundaries of a $2.5 million property. A deal to buy a house fell apart when Countrywide Financial (CFC) foreclosed on the seller. Until recently, Lewis lived in a 700-square-foot home, tight quarters for an entourage that includes two cats, three dogs, and, during working hours, a housekeeper and two assistants. "These are not great times, and people are suffering," says Lewis, a self-professed "working millionaire" who has flipped more than 40 homes.
With a Hollywood clientele, Lewis is the glitziest member of the speculator class that swarmed the market during the boom, figuring it could make a fast buck on any property. The rapid-fire purchases of speculators helped spur housing to unsustainable heights, not unlike the way day traders pumped up dot-com stocks during the tech bubble. Now many players have fled. Last year speculators accounted for 40,000 transactions, down from 425,000 in 2005, according to the National Association of Realtors. "Flipping looked like a no-miss [situation]," says former real estate speculator Josh Hohman in San Francisco, who has reinvented himself as an online entrepreneur.
Lewis, known for his healthy ego, doesn't plan a full-on retreat. With buyers scarce, Lewis is branching out and remodeling other people's homes. Since doing a $200,000 job for TV producer Andy Lassner, he's gotten a slew of requests to fix up kitchens and basements. "There are a lot of people who want a Jeff Lewis house," he says.
Meanwhile, lenders are cracking down on his core business. Lewis says he used to get away with a mere 10% down payment. Now 40% is required. Banks also are demanding that he set aside six months' worth of mortgage payments, double the amount in boom times. "They're no longer letting me buy four houses at once," laments Lewis, who's thinking of finding investors to help fund purchases.
Reluctantly Lewis is downsizing his ambitions. He says he used to spend as much as $600,000 to spruce up a home with top-of-the line appliances and fixtures. Today it's closer to $250,000. To cut costs Lewis doesn't replace windows and refinishes existing kitchen cabinets instead installing new ones.
Ever the optimist, Lewis is searching among the wreckage for deals, betting on an eventual recovery. This summer, Lewis bid $70,000 to take over the mortgage payments on a $2 million apartment. The debt-hobbled owner wants $100,000. (They're still negotiating.) "I'm not saying we haven't had setbacks," says Lewis, leaping from his Mercedes-Benz SUV to check out a building that he hears may be troubled. But "there's always opportunity in the worst of times."
The son of an Orange County developer, Lewis has experienced busts before. He bought his first condo after high school in the late 1980s recession; Lewis lost $3,500 when he eventually sold it. He fared better on his next deal and netted $35,000 after remaking the house in the sleek, modern style that has become his trademark. In 1998 Lewis left his day job at a real estate agency to flip full time. "I was hooked," he says. "I could wake up when I wanted and work when I wanted."
Lewis ended up a reality TV star by accident. Three years back, his vivacious on-air assistant, Jenni Pulos, a sometimes rapper and comedian, pitched a show about aspiring actors called The Wannabes. The producers passed on the idea but saw potential in her boss's obsessive-compulsive antics. Lewis has installed a Nanny Cam to spy on his staff and has insisted all water bottles in his refrigerator face the same direction. A devotee of scream therapy, Lewis has pampered his pets with trips to acupuncturists. Bravo is expected to bring back the show next year. But when viewers tune in, they may see Lewis Digging Out.
Before it's here, it's on the Bloomberg Terminal.
LEARN MORE