The Global Financial Crisis Batters Chávez
The Venezuelan President may be forced to moderate his revolutionary policies and ease regulations on foreign investment
By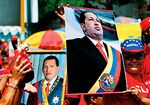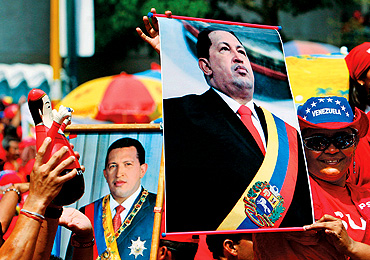 Caracas - Petrodólares. As oil prices soared in recent years, Venezuela's fiery President, Hugo Chávez, doled them out to win friends and influence people both at home and abroad. For Venezuela's poor he built health clinics and schools and funded farming co-ops. He distributed cheap oil to Cuba and other Caribbean neighbors while bankrolling his debt-ridden allies in Argentina. Three years ago he even ventured onto the turf of his archenemy, the U.S., and offered cut-rate heating oil in poor neighborhoods. The day the first deliveries arrived in the South Bronx, the front-page photo on New York's Spanish-language El Diario showed a smiling Chávez wearing a Santa Claus hat.
But while Chávez built his "Socialism for the 21st Century" on a foundation of crowd-pleasing gestures, he scrimped on traditional investments—the ones that pay economic returns. So traffic crawls on Caracas' crumbling highways. An overtaxed power grid has led to three nationwide blackouts this year. Businesses, fearful of revolutionary taxes and confiscation, have trimmed investments to the bare essentials. And while the government says oil production tops 3 million barrels per day, industry sources think it's fallen to a mere 2.4 million barrels, down by a quarter from 1999.
As long as the price of oil rose, none of this bad news held back Chávez or his revolutionary ambitions. He was flush. As it turns out, it took the Wall Street collapse and the specter of the worst global recession in decades to drag down the oil market and hit Venezuela where it hurt.
The question now is how Chávez will respond to the economic constraints. Will he trim back his revolution and warm up to private investors—perhaps using the arrival of the Obama Administration to seek détente with the U.S.? Or will he bull ahead, seizing on economic unrest to nationalize more industries and establish authoritarian rule?
On a stormy afternoon, as thunderclouds empty onto the valley of Caracas and turn the snarled highways into rivers, economist Ignacio de Leon hurries in from a patio restaurant at the swank Hotel Tamanaco InterContinental. Finding a dry table, he sits down and draws a Y with his finger on the white tablecloth. "We're at a fork in the road," says De Leon, a managing director of economic consultancy Econlex. "Chávez has to choose—to moderate or radicalize."
Whatever his choice, it's clear that Chávez must adjust to more frugal times. He counts on energy sales for 95% of export revenue and half of his government budget. Prices for Venezuela's crude have fallen by nearly 60% since July, to as low as $52.92 per barrel. That leaves him dangerously short. Deutsche Bank (DB) estimates that Chávez needs $95 per barrel to finance operations and pay for imports, including much of the nation's food. Less than a year ago, Chávez chopped three zeros off the bolivar and vowed to defend the new currency. But on the black market this "strong bolivar" fetches half what it did in June. Venezuelan government debt, meanwhile, now yields nearly 20% annually, double its level of six months ago.
The full impact of the downturn hasn't yet reached Caracas. Oil revenues, based on contracts made three months ago, are still coming in at August's higher prices. But the prospects are darkening just as Venezuela heads into state and municipal elections on Nov. 23. True, the voting might not mean much, since Chávez in July issued a decree empowering him to appoint regional leaders. But a decisive loss would signal that Venezuelans may be weary of his revolution—and reluctant to rewrite the constitution so that the 54-year-old leader can stay on beyond the end of his term in 2012.
Naturally, both foreign and Venezuelan businesses are hoping that Chávez's growing needs will force him to moderate. But there's little sign of softening as he storms through the country campaigning.
Most recently, he has threatened to jail Manuel Rosales, governor of the northwestern state of Zulia and Chávez's biggest domestic rival, on corruption charges. Rosales, he says, is a "tumor in the body of the state." For economic relief, Chávez is hoping oil will climb again. "It's not the end of the world," Deputy Oil Minister Ivan Orellana says while checking his BlackBerry for the price of crude. "A rebounding global economy and OPEC [production] cuts will push prices higher."
During the boom, Chávez rewrote contracts on oil projects while jacking up taxes and royalties and demanding that foreign investors such as ExxonMobil (XOM), Total, and ConocoPhillips (COP) cede majority control in their operations to the state oil company, Petróleos de Venezuela. Since then, production has continued to ebb. In late October, Venezuela announced plans to open four new projects in the oil-rich Orinoco Belt to private minority partners. But even in the best case, those wells won't be minting new petrodólares for three years—probably too late to help Chávez balance his books.
HARD CHOICES
This leaves Chávez with limited options. "He can either cut spending or devalue the currency," says Patrick Esteruelas, an analyst with New York consultancy Eurasia Group. "There are risks in both." A devaluation would give the government more bolivars to spend, but would also spur inflation and risk more shortages. Observers in Caracas expect Chávez to put off a devaluation until well past the election.
He could of course cut spending—but there are complications. Government subsidies, for instance, keep gasoline at 12 cents a gallon—spurring Venezuelans to drive more and leaving less oil to export. But attempts by previous governments to raise gas prices have provoked angry uprisings. And the stakes are even higher now. Over the years, Chávez has armed many of the poor, creating revolutionary militias. At least some of their weapons are contributing to an unprecedented surge of violent crime. With more than 4,000 killings per year, Caracas now tops the world in murders per capita. And the U.S. State Dept. warns visitors of armed gangs who throttle victims until they pass out before robbing them.
Many Venezuelans fear that a suffering economy could stir even more violence. From his high-rise office at Banco Venezolano de Crédito, Oscar Garcia Mendoza, the bank president, gestures out the window to the working-class neighborhood below. It's a warren of tin and terra-cotta rooftops extending toward the dark green Ávila mountains that separate Caracas from the Caribbean coast. "It's going to get ugly," he predicts. In the worst case, Chávez's opponents fear that economic crisis and an outbreak of violence might lead the President to assume emergency powers and steer Venezuela toward a Cuba-style regime. His rhetoric suggests as much. "Socialism is the only way to save us," Chávez said at an early November election rally.
In a sense, Venezuela's economic mess parallels the crisis in the U.S. Venezuelans, like American homeowners, jacked up spending as the value of their assets soared. Chávez, focusing on his political agenda, led the charge, driving up government outlays from 22% to 33% of gross domestic product in only five years. Imports increased fivefold, to an estimated $52.2 billion, from 2003 to 2008 as domestic production stalled, hampered by an overvalued currency, price controls, and a welter of regulations.
Venezuela reports foreign reserves topping $40 billion. But its finances are largely shrouded in mystery. One of its development funds, known as Fonden, reportedly has $30 billion to $50 billion. Chávez has dipped into it routinely to finance pet projects at home and abroad. But those outside the inner circle have only the faintest idea about the nature of the fund and fear it may be full of little more than IOUs from Chávez's pals throughout the region. And financial convulsions in Argentina stoke concern that troubles in Buenos Aires could put losses in Chávez's books.
The most prominent forces poised to provide relief—private investors, both domestic and foreign—have long been punching bags for Chávez. This is especially true since his reelection in 2006, which Chávez saw as a mandate for socialism. Since then he has moved to nationalize "strategic" sectors, including steel, cement, telecom, and electricity, and the Banco de Venezuela. That leaves the investment climate frigid. "It's the definition of high-risk," says Edward D. Jardine, president of the Venezuelan American Chamber of Commerce. And by all signs, Hugo Chávez's Venezuela is getting riskier.
Before it's here, it's on the Bloomberg Terminal.
LEARN MORE