Matthews Asia: Weathering Asia's Financial Crisis
The San Francisco fund company, one of the few that focuses exclusively on Asia, isn't spooked by the region's financial market meltdown
By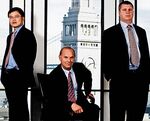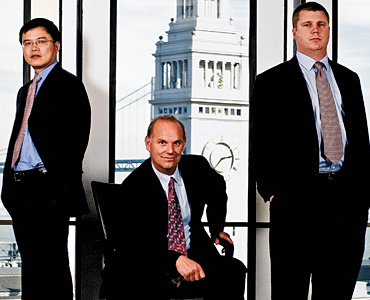 Not long after Mark Headley began running Matthews Pacific Tiger Fund in 1995, the Asian currency crisis decimated his portfolio. "At the peak in 1996, shares of our fund were about 14," says 49-year-old Headley, now the fund firm's CEO. "At the trough in 1998, they were 4." By contrast, Headley thinks this year's meltdown in the Asian markets isn't nearly as bad—even though Matthews Pacific Tiger is down 46.7%. "Asia learned a lot from its last financial crisis," he says. "Companies there today have much less debt and more cash to weather this storm."
San Francisco-based Matthews Asia Funds is one of the few mutual fund shops investing exclusively in Asia. "A lot of folks tell me investing in Asia is a niche," says acting Chief Investment Officer Andrew Foster. "We're talking about 50% of the world's population and 30% of its economic output. How is that a niche?" The firm, which manages $5.6 billion, has a strong record: Its two oldest and best-known funds—Matthews Pacific Tiger (MAPTX) and Matthews Asian Growth & Income (MACSX)—have beaten more than 90% of their peers over the past 10 years. Its newer funds have also done well in their categories.
Matthews' success doesn't rest on extensive operations in Asia—it doesn't have offices in the region, and its top executives are Americans who never had to learn Chinese. Says Headley: "I've been cursed by the fact that 90% of the people I've met in Asia speak English fluently." Every investment professional at the firm goes to Asia four times a year, usually for two weeks. "Having people in different offices in Asia is good for research but bad for the decision-making process of investing," he says.
Of the firm's 10 funds, Matthews Asian Growth & Income, which Foster has headed since 2005, is arguably the best for a volatile environment. It invests primarily in convertible bonds and dividend-paying stocks. That income-oriented approach has reduced its downside risk considerably. The fund has taken its lumps, though: Year-to-date, it's down 34.4%, but that's 21 percentage points better than the average Asia fund. It has been 40% less volatile than its peers over the past three years.
Lately, Foster is limiting its exposure to smaller countries such as Thailand and Korea. "The difficult thing Asia faces is that the region is terribly reliant on the U.S. dollar as a shadow currency," he says. "A lot of trade is denominated in dollars. As the dollar diminishes as a safe haven, many smaller countries don't have strong enough currencies to act as a surrogate. That can wreak havoc on their foreign trade."
Moreover, some of the biggest and strongest Asian markets are dirt cheap. "Now that China, India, and Japan have pulled back so much, the relative appeal of smaller markets has diminished," Foster says. He has been buying stocks of big banks and real estate developers, which have fallen as hard as their U.S. cousins, even though their balance sheets are stronger. In Hong Kong he owns stocks like Hang Lung Properties, a developer that reaped gains from property it built in prime locations in mainland China during the real estate boom and is now using its cash hoard for new projects. In banking, he owns India's HDFC, a top mortgage bank. He also owns shares of Taiwan Semiconductor (TSM), which recently began increasing its dividend. "It has a 5.5% yield, not a whisper of debt, and $5 billion of cash," Foster says.
STAYING AWAY FROM CYCLICAL STOCKS
Those with a greater appetite for risk may prefer the Matthews Pacific Tiger fund. It favors rapidly growing, often small to midsize companies. Headley co-manages the fund with Chinese-born Richard Gao. "We're looking for companies with earnings growth that can be sustained over the long term," Gao says. "So we don't invest in cyclical stocks in the industrial materials or energy sectors that derive their growth from ups and downs in commodity prices."
Until recently that strategy was a liability because the market favored commodity stocks. But since the slide began, the fund has lost nine percentage points less than its peers, which are down, on average, 55.8%. Gao likes financial services, tech, and consumer staples because of Asia's growing middle class. "Asian companies will rely less on exports and more on domestic demand," he says. One of his top picks is Tencent Holdings, the leading provider of instant-messaging services in China. "At 250 million, the number of Chinese Internet users has already passed the U.S., though the percentage of users is still quite low," he says. "We expect the growth rate for new users to be 25% to 30% a year for the next two to three years."
Gao is also making forays into health care. He holds Sun Pharmaceutical Industries, an Indian developer of generic drugs, and upscale hospital owner Parkway Holdings. "Parkway attracts wealthy people from India and the Middle East who come to Singapore for operations," he says. Adds Foster: "For most parts of Asia, expenditures on medical expenses are a fraction of what they are in Europe and the U.S. Health care is treated as a discretionary item, but as more Asian households move into the middle class, those expenditures will grow." And that growth should remain, regardless of whether the U.S. economy continues its slide.
Before it's here, it's on the Bloomberg Terminal.
LEARN MORE