Internet Censorship, Saudi Style
The Saudi Arabian government uses routers and other technology to block content on controversial Web sites
By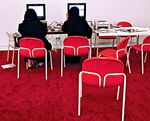 In most countries with Internet censorship, it takes a massive government effort to block unwanted Web content. China, for example, employs a vast arsenal of technologies and thousands of human censors to maintain its Great Firewall.
Saudi Arabia is different. While the country blocks broad swaths of the Internet, from pornographic Web sites to calls for the overthrow of the government, Saudi Arabia has fewer than 25 people involved in the effort. The country's Communications & Information Technology Commission (CITC) uses software to block clear-cut violations, such as Web sites for porn and gambling. But for pretty much everything else it relies on citizens who send in roughly 1,200 requests a day to have sites blocked. Khalid M. Baheyeldin, a Web consultant who lived in the country for 11 years and now works in Ontario, says students and religious figures tend to be most active in flagging offensive sites. "There's a feeling of moral conviction that obliges people to have these sites blocked," he says. CITC takes action on about half of those requests, says a source close to the effort who requested anonymity.
Several key people in the censorship apparatus are U.S.-educated techies who understand the Western ideal of Net freedom but don't think it applies in Saudi Arabia. The team includes graduates from Harvard and Carnegie Mellon and is led by Sulaiman Mirdad. He graduated from Boston University and co-founded a Boston-area networking company, InfoLibria, that raised $120 million before crashing in the dot-com bust.
ANONYMOUS POSTINGS
Still, Saudi censorship is considered among the most restrictive in the world. One local blogger, Fouad al Farhan, was jailed earlier this year for advocating political reforms. While Farhan wrote under his own name, most of the country's estimated 2,000 bloggers post anonymously. "There are many red lines in the country—religion, the royal family," says Hajar Smouni, head of the North Africa and Middle East desk for Reporters Without Borders, which monitors press freedom around the world.
This makes Saudi Arabia potentially treacherous terrain for Cisco Systems (CSCO) and other tech companies. In May the U.S. Congress hauled Cisco, Google (GOOG), Microsoft (MSFT), and Yahoo! (YHOO) in for hearings on their role in online censorship, particularly in China. Cisco's routers direct traffic through the Net, so they can be used to block content. The company says it does not design or modify equipment to allow political censorship.
Still, all routers have the ability to stop traffic from particular Web sites, and there are legitimate reasons for doing so. Companies use the capability to foil spam attacks or stop employees from gambling while they're supposed to be working. Though Cisco routers can do rudimentary blocking, CITC uses more sophisticated software from San Jose-based Secure Computing that offers a menu of 90 categories of sites to block. A spokesman for Secure says the categories don't "discriminate on the basis of race, religion, political persuasion, gender, sexual orientation, or any other personal characterization."
Saudi-style censorship is anathema in the West, but CITC claims only 40% of citizens say they are concerned. "You can define censorship in many ways," says Haitham Abu Aisha, general manager of Riyadh Internet service provider Sahara Net. "We want censorship of pornography and harsh ideas."
Return to Future of Technology Table of Contents
Before it's here, it's on the Bloomberg Terminal.
LEARN MORE