Five Stockpickers' Favorite Plays
Atop their lists: European telecom, tech shares, Canadian mining companies, and a sector hit hardest in the crashfinancial services
Lauren Young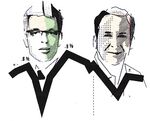 It's during times of tumult that stockpickers have the opportunity to rise to guru status. Take Elaine Garzarelli. The former Shearson Lehman Brothers analyst, who now runs her own research firm, was lionized for calling the stock market crash of 1987.
Who will be the stars of the current financial crisis? Meredith Whitney is probably best-known. The Oppenheimer (OPY) managing director predicted that there would be "unprecedented credit losses" for subprime lenders back in October 2005. A few lesser-known prognosticators also foresaw the crash, including Teun Draaisma, Morgan Stanley's (MS) Europe strategist.
BusinessWeek asked Draaisma and two others who have been bearish for their ideas on investment moves to make right now. We also talked with two big cheerleaders who missed the crash but have been right in previous cycles, to see whether they've been chastened by the rough markets and what their favorite plays are today.
Europe strategist at Morgan StanleyTHEN: Draaisma issued a rare sell signal for European stocks in June 2007, based on quantitative research.NOW: Key market-timing indicators, which include cheap valuations and strong fundamentals, say it's time to buy.INVESTMENT OUTLOOK: nvestors have reached a point of capitulation—as measured by record mutual fund outflows in the U.S. and Europe, he says. In addition, analyst revisions are collapsing, and a closely watched manufacturing index has fallen to a level that shows economic contraction.
Although Draaisma's quantitative screens point to a buying opportunity, he's advising long-term investors to take their time getting into stocks. "The severe part of the bear market is over, and there is plenty of value out there, but there's no hurry," says the Dutch-born strategist, who is now based in London. His models say the next bull market may not kick off until next summer. Meantime, expect a lot of "bumping around the bottom."
One sector that offers promise right now is telecommunications. "Minutes spent on the phone are not as cyclical as holiday spending or luxury resorts," Draaisma says. "People will still talk as much, maybe even more, to complain about their lives."
Dividends are another reason to like European telecom companies: Some are expected to yield 7.6% in 2009, nearly double the yield on European government bonds. His picks: Tele2, Telefónica, Vodafone Group (VOD), Deutsche Telekom (DT), and France Telecom (FTE).
President of advisory firm Euro Pacific CapitalTHEN: In his 2007 book, Crash Proof (Wiley), Schiff forecast the demise of the mortgage and residential real estate markets and the crash of stocks, along with rising inflation and surging commodity prices.NOW: Schiff was spot on in most cases, but he did not expect a strengthening dollar, which hurt his foreign stock recommendations.INVESTMENT OUTLOOK: The U.S. economy is in much worse shape than people realize. "At some point the world will cut us off and won't supply us with consumer goods, resources, and credit," Schiff says. While the next five years will be "extremely dire" for the U.S., Asian markets have the most to gain once their dependence on the U.S.
With stocks down as much as 50% in such markets as Hong Kong's, it is a good time to buy. He recommends some unusual commodity stocks with big dividends. One is Singapore Petroleum, an Asian oil-and-gas company. It's trading at 2.5 times next year's projected earnings, and its dividend works out to a 25% yield.
Schiff also likes Hong Kong-listed Pacific Basin Shipping, which has a dividend yield of 34%. Both stocks have lost nearly three-quarters of their value since January.
Manager of the $1.2 billion Prudent Bear Fund (BEARX)THEN: A year ago, Tice said U.S. stocks would fall 50% to 60%.NOW: Tice, who is a well-known short-seller, still recommends shorting consumer discretionary, technology, financial, and industrial stocks despite today's low prices.INVESTMENT OUTLOOK: Although Tice foresaw the bear market in equities, he didn't expect metal and mining stocks to be hit so hard. These companies offer "a phenomenally attractive opportunity" because the outlook for metals is bright, he says. "Ultimately, global efforts to prevent a financial meltdown are bad for currencies and good for gold" and other precious metals, which will be used as safe havens. Tice likes Goldcorp (GG), a gold miner, as well as silver producer Silverstone Resources.
Chief strategist at Wells Capital ManagementTHEN: Last November, Paulsen told investors to buy stocks for explosive earnings growth.NOW: Sees the greatest buying opportunity for equities since the Great Depression.INVESTMENT OUTLOOK: The past year hasn't been much fun for Paulsen, who "never thought it would get this bad." Even so, he is still pounding the table for stocks because the current crisis is more about confidence than fundamentals. "With stock prices already off about 50% in the past year, this worst-case recession scenario is already priced in," Paulsen says.
In addition to industrial, basic-material, and transportation stocks, Paulsen likes the technology sector, because corporations have put off upgrading their systems and software for far too long.
Chief U.S. equity strategist at CitigroupTHEN: Levkovich built his reputation on a bullish outlook. In January he predicted that the Standard & Poor's 500-stock index would rise 14% because the financial sector had seen the worst of mortgage-related losses.NOW: Levkovich concedes he is "eating humble pie" after underestimating the severity of the financial crisis. He has become more bearish.INVESTMENT OUTLOOK: Health-care and pharmaceutical stocks are good places to hide out during a recession, he says, but biotech is already too expensive. Levkovich sees the best opportunities in diversified financial-services firms. "They are totally beaten up," he says. "Earnings are so hammered that an improvement in earnings can simply come from fewer write-offs, especially as the credit crunch eases."
Levkovich likes big U.S. commercial banks, asset managers, and brokerages. Citigroup's recommended list includes broker Charles Schwab (SCHW) and asset manager BlackRock (BLK). Financial powerhouse Bank of America (BAC) was added to the lineup in mid-October.
Before it's here, it's on the Bloomberg Terminal.
LEARN MORE