Damage Control at Insurance Companies
Giant MetLife is dumping the riskiest stuff and staying liquida bad omen for the markets
Joseph Weber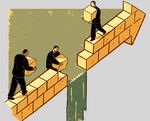 Individual investors aren't the only ones scared to look at their portfolios. Insurance giants are also watching their holdings wither, a situation that could have serious implications for their customers and the markets. The biggest independent life insurer, MetLife, reported total paper losses of $12.2 billion on its $340 billion portfolio. "You have to plan for things to be depressed for the next few quarters at a minimum," says Steven A. Kandarian, chief investment officer at MetLife. (MET)
Kandarian's dour outlook is worrisome. MetLife, like Prudential Financial, Aflac, and the rest of the beleaguered industry, takes the premiums it collects from policyholders and uses the money to buy stocks, bonds, and other assets. With hundreds of billions of dollars at their disposal, insurers are among the most influential investors, ranking up there with endowments and pensions. Facing ugly losses, Kandarian and other managers who oversee the portfolios are selling off risky investments and hoarding cash. In essence they're hunkering down when the troubled stock and bond markets are yearning for fresh money from big investors.
If insurers' portfolios remain weak, individuals who bought annuities could get hurt as well. To boost profits, MetLife and others may cut the interest they pay on some existing and new annuities. "I would have expected a decline" in annuity rates already, says Steven N. Weisbart, chief economist at the Insurance Information Institute. "The circumstances could change any day."
For now, Kandarian is taking a defensive tack, boosting cash holdings to 7.5% of assets, up from 2.6% five years ago. He's also scaling back investments in economically sensitive sectors, including carmakers and airlines, dumping $7.2 billion of such securities since last year. Instead, he's buying the bonds of food producers, drugmakers, and other recession-resistant industries.
Kandarian is also looking at other kinds of investments. MetLife has made some $12 billion worth of loans to farmers, ranchers, and other players in agriculture who Kandarian figures are likely to keep up their payments. The insurer is now the biggest ag lender outside of the government.
Not all of Kandarian's holdings seem so reliable. He has $91 billion in securities backed by home loans, credit-card debt, and commercial real estate. He thinks those investments have a good shot at paying off. Many of the mortgage investments were built on loans made in 2004 or earlier, before underwriting standards were thrown out the window. "[MetLife] really got out of the riskier stuff," says Standard & Poor (MHP)'s analyst Bret Howlett.
Kandarian, a lawyer who ran the Pension Benefit Guaranty Corp., has long been wary of the frothy corners of real estate. Soon after joining MetLife in 2005, the 56-year-old started sounding alarms. In a presentation to the company's directors blandly titled "Housing Bubble," Kandarian and his team warned about dubious loans, such as interest-only mortgages, and overheated markets in California, Las Vegas, and South Florida—and moved quickly to exit those risky areas.
That's not to say Kandarian hasn't gotten burned. Like other insurers, MetLife got caught holding the bonds of now-defunct Lehman Brothers as well as of Washington Mutual (WAMUQ), which JPMorgan Chase (JPM) bought in September. Those investments are trading for pennies on the dollar. Wary of further blowups, he's making sure no single investment or sector gets too big. "Until people become more confident in the financial system," he says, "institutions have to remain liquid."
Before it's here, it's on the Bloomberg Terminal.
LEARN MORE