Capri to Break Ground in Saudi Arabia
Capri will be the first U.S. developer to join projects aiming to compete with Dubaiand it's glad to get away from the troubled home market
By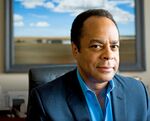 Quintin E. Primo III of Capri Capital Partners is feeling pretty good about real estate these days. His real estate investment firm's $5.3 billion portfolio is anchored by 18,000 multifamily rental apartments with relatively strong returns even amid the housing slump. While hedge funds and others have been crushed from dealing in mortgage-backed securities, Primo steered clear, helping Capri avoid double-digit losses. "In good times, many of our competitors outperformed us," he says. "That tide has turned."
Now the Chicago-based chief executive has set his sights on Saudi Arabia. Capri expects to invest $2 billion as the first U.S. developer in the Saudis' massive project to carve glitzy "economic zones" out of the desert. The plan: build two five-star hotels, a convention center, office towers, retail outlets, and luxury condos in the sprawling Saudi development called King Abdullah Economic City (KAEC). "Capri brings financial engineering and prowess that will help make this project financially viable," says Fahd Al-Rasheed, CEO of master developer Emaar the Economic City, which oversees development of the new Saudi center.
There are daunting challenges. Capri raises most of its money from outside investors, and the credit crunch is making many U.S. institutions hesitant to part with their cash. Primo also is seeking money in the Middle East, where big-money investors may be more willing to back him. He has made several trips to the region in the past year. One possible draw is that he's a financial adviser to his Chicago friend, President-elect Barack Obama. Still, his development partners recognize that this is new terrain for Capri. "We will see how they deliver," Emaar's Al-Rasheed says.
Born in 1955, Primo began his career as a pianist in an R&B group called Bojack before moving into business. The Harvard Business School grad was a vice-president at Citicorp Real Estate, managing a Chicago lending team, and he co-founded Capri in 1992. The focus: inner-city projects that had a hard time attracting investment. Capri bought the rights to redevelop Baldwin Hills, a large shopping mall in a mostly African American section of Los Angeles, and more recently began a project on the South Side of Chicago. "A few years ago, there wasn't much competition," says Primo. "Today, you have umpteen majority-owned firms pursuing the minority space."
URBAN MARKET EDGE
New York City assistant comptroller of pensions Joseph J. Haslip says he has invested some pension fund money in Capri because of Primo's connections and aversion to debt. "Quintin can access deals in the urban market without using a lot of leverage," Haslip says. Primo's goal is to expand into Brazil, Russia, India, China, and Saudi Arabia.
He's already introducing the Saudis to a Chicago network of U.S. business leaders. Next year he will host the governor of the Saudi Arabian General Investment Authority, Amr Al-Dabbagh, on a visit to meet with top executives, including the CEOs of Boeing (BA), Aon (AOC), and Corn Products International (CPO). Primo is also creating a management institute in KAEC that will train U.S. workers for jobs in Saudi Arabia and help Saudi citizens develop skills to work in the city's hotels and stores. "We want to establish permanence in the region by bringing long-term value," Primo says. "We're not just building and getting out."
Return to Future of Technology Table of Contents
Before it's here, it's on the Bloomberg Terminal.
LEARN MORE