How Obama Will Stoke the Economy
He may spend up to $500 billion on stimulus. Lobbyists are already angling for a piece of the action
Jane Sasseen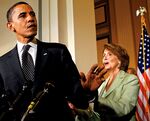 Christmas in January?
It increasingly looks that way. For all the talk in recent weeks that Congress, the White House, and the incoming Administration might agree by late November on another extensive stimulus package, prospects are fading for any but the most minimal aid being passed by Thanksgiving. The real action will happen—and the real money will flow—come January, when President-elect Barack Obama takes over.
Obama's aides have begun working on a plan to spend up to $500 billion in new funds if the economy continues to worsen. That's well over the roughly $300 billion House Speaker Nancy Pelosi (D-Calif.) had initially considered for a new package—a figure that had been viewed as the outside limit until now.
Economists, including Goldman Sachs' (GS) Jan Hatzius and New York University's Nouriel Roubini, have been arguing in recent weeks that even $500 billion—almost 4% of U.S. gross domestic product—will not be enough to pull the economy out of its nosedive. That's because GDP is poised to contract by an annualized 3% in the fourth quarter and a further 1.5% in the first quarter of 2009, pushing joblessness toward 8% next year. "If the sense of crisis continues to grow, Obama will have a lot more leeway to be bold," says Robert Reich, an Obama adviser who served as Labor Secretary under Bill Clinton and is a veteran of many budget battles from that era. "Even fiscal conservatives will come around."
So far, of course, they haven't. With hopes for a larger November stimulus dashed, Pelosi now is trying to put together a more limited stimulus package on the order of $60 billion to $100 billion. The White House is refusing to go along, however, arguing that much of the money would simply go to pork. The Administration also is focusing on Treasury Secretary Henry Paulson's new strategy, announced Nov. 12, to direct a big chunk of his $700 billion bailout fund at the troubled market for consumer debt, nonbank financial companies, and homeowners facing foreclosure.
That means many of the items on the Democrats' wish list will have to be deferred to January, when the party will control both the White House and Congress. "Everyone knows that the January bill will be the one train leaving the station," says Daniel Clifton, head of Washington policy research for Strategas Research Partners.
So what is likely? A big batch of infrastructure spending clearly is on the way. Obama and the Democratic leaders believe there are tens of billions' worth of projects that could quickly be tackled to bolster crumbling roads, bridges, and airports while at the same time creating hundreds of thousands of jobs. An additional $50 billion or so could go to states directly, helping to plug the budget shortfalls many are now facing. Obama also wants to follow through with campaign promises to invest in alternative energy and health care, so such spending could be repackaged as necessary to help jump-start the economy.
Some form of tax relief is likely, too. An additional round of rebate checks could go out, although many economists don't believe the $168 billion mailed to taxpayers last spring was terribly effective. To counter that impression, the National Retail Federation is circulating its own statistical analysis of what people did with the first $110 billion in rebates: While consumers socked much of the money into savings, the report says, they also spent $42 billion.
Alternatively, Obama could use the stimulus package to put in place the middle-class tax cuts he campaigned on, something that Rahm Emanuel, Obama's Chief of Staff, has signaled that Obama wants to do. Some argue for a different approach altogether. The Business Roundtable, for instance, is lobbying for a temporary 1% reduction in the Social Security tax rate for both employers and employees.
The prospect of a supersize, damn-the-deficit spending bill has Washington lobbyists angling to get their favored program funded in the package. "There's a lobbyist for every entity and every organ in your body in this town, and they wouldn't be doing their jobs if they didn't push their cause," says Steve Pfister, the senior vice-president for government relations at the National Retail Federation. "There will be some things that are laughable."
A Boon for Home Buyers
Many ideas that were considered—and then discarded—in last spring's stimulus debate are resurfacing. Homebuilders and real estate agents are trying to get the tax credit for first-time home buyers bumped up from $7,500 to $22,000 and have it made available to all buyers. A broad array of business groups is trying to get Congress to extend the time period during which companies can write off current operating losses against earlier profits on their tax returns. The change would allow money-losing companies to pocket tax refunds.
Others are pushing new ideas. The Business Roundtable wants Treasury to temporarily allow companies to bring earnings from their foreign subsidiaries back into the U.S. without paying income tax on them, a tough idea to swallow for many Democrats, who would like to end the favorable tax treatment of foreign profits altogether. The Roundtable also is seeking relief from a 2006 law that requires companies to do a better job funding their pensions. Meanwhile, lobbyists for the Telecommunications Industry Assn., which represents Alcatel-Lucent (ALU), Intel (INTC), and Verizon (VZ), among others, is pushing a 15% tax break for any company that expands the reach of broadband. The association is putting the finishing touches on a report contending that a 7% increase in the broadband network's reach would add $92 billion to the economy by creating 2.4 million jobs. "It won't be a hard sell," predicts TIA's vice-president for government affairs, Danielle Coffey, who has been peppering allies in Congress with calls and visits in recent days.
A "Christmas Tree"
Individually, none of these measures may be a hard sell. But collectively they add up to a pretty penny. Throw in $500 billion to the deficit, along with any additional spending that could be needed to supplement the Treasury's financial-industry rescue, and before long the shortfall could hit $1 trillion—a record 7% of GDP—or more. And while few disagree that the economy needs a hefty jolt now, fears linger that the deficit will spiral out of control just as baby boomers retire in large numbers and start to depend on Medicare, Social Security, and other federal programs. "There's a real risk of this becoming a 'Christmas Tree,'" says Leon Panetta, an adviser to Obama who was Chief of Staff and head of the Office of Management & Budget in the Clinton Administration. "You don't want to be just throwing money at the problems."
Like Obama, Clinton also campaigned on an expensive package of health-care and infrastructure spending, along with tax cuts. But then he had to backtrack in the face of a weak economy. And as with Clinton, Panetta thinks, fiscal constraints are going to force Obama to trim his ambitions. "The day he walks into the Oval Office, he'll face the largest deficit in the history of the country," says Panetta. "It's the same sobering moment Bill Clinton faced when he walked in."
Before it's here, it's on the Bloomberg Terminal.
LEARN MORE