DHL to Halt Express Deliveries in the U.S.
Deutsche Post's U.S. division will also close its 18 main distribution hubs and lay off most of its workers in the country
Jack Ewing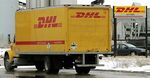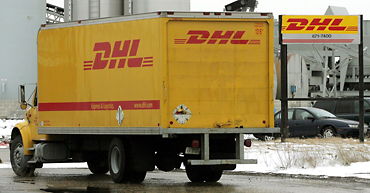 Package delivery company DHL may have conquered the world, but it admitted on Nov. 10 that it couldn't conquer the U.S. The unit of Germany's Deutsche Post (DPWGN.DE) announced it will stop making express deliveries within the U.S., close all of its 18 main distribution hubs there, and lay off all but a few thousand of its remaining 13,000 U.S. workers.
Although DHL will continue to make deliveries to and from the U.S. and other countries, its withdrawal from the domestic express business is another setback for a blue chip German company in the world's biggest market. Last year carmaker Daimler (DAI) sold its stake in Chrysler after it was unable to turn around the No. 3 American automaker.
DHL has lost nearly $10 billion in the U.S. in the five years since it purchased Airborne Express in an attempt to challenge FedEx (FDX) and United Parcel Service (UPS). Despite its dominance in the rest of the world, DHL was never able to take enough share from the two major carriers in their home market. The company's decision to largely withdraw from the U.S. will push parent Deutsche Post to an estimated $1 billion loss for the full year as it books writedowns totaling $3.9 billion to cover severance payments to workers and other restructuring.
Focus on International Express Deliveries
DHL's failure is also an early illustration of how the meltdown on Wall Street and the larger economic downturn are likely to cull weaker players in many businesses. "Crises favor the market leaders," Deutsche Post CEO Frank Appel told reporters at the company's headquarters in Bonn. Worldwide, he expects that principle to work in the company's favor. "We will come out of this crisis stronger," he said.
Deutsche Post execs insisted the company will continue to provide good service to DHL customers sending packages from the U.S. to international destinations and vice versa. The company intends to focus what remains of its express network on metropolitan areas, which account for 90% of international traffic.
DHL revealed a proposal last summer to use UPS to provide domestic air express service for its customers (BusinessWeek.com, 6/11/08). But the plan quickly became politicized over fears that it would result in huge job losses in Ohio (BusinessWeek.com, 7/31/08) if DHL closed its Wilmington cargo hub there. The UPS relationship is still being negotiated, and a company spokesperson said on Nov. 10 that no decision has been made to shut the Wilmington hub as part of DHL's restructuring. By most estimates, though, if the UPS deal goes through, as many as 8,000 DHL workers there could lose their jobs by the end of January.
The company also will continue to use subcontractors, including the U.S. Postal Service to deliver to areas it doesn't cover. DHL's profitable freight and supply chain-services businesses in the U.S., which employ about 25,000 people, won't be affected by the cuts.
"Risk Everywhere"
Appel acknowledged that the massive cuts in the express division—15,000 jobs including previous layoffs—will generate bad publicity. Although Deutsche Post generated most of its $17.7 billion in third-quarter sales outside the U.S., about half of the company's top express customers are based in America and about half of all express shipments pass through there. The decision to stop supplying domestic express service provides an obvious opening for FedEx and UPS to try to steal some of those customers.
But Deutsche Post execs, facing early signs of a downturn in profit worldwide, decided to slash the U.S. business before the sales further deteriorated. In the third quarter of 2008, which Deutsche Post also reported on Nov. 10, operating profit at the parent company slipped 8.5% before one-time items, to $550 million. "We are entering unprecedented economic times. We see risk everywhere," said John Mullen, CEO of DHL Express. "We think it's critical to take action now."
DHL has faced massive criticism for the way it managed the U.S. business. Readers responding to an earlier report on BusinessWeek.com (11/6/08), many of them identifying themselves as DHL employees or customers, savagely attacked what they said was lackadaisical service and top-heavy or even incompetent management. Mullen said that while some aspects of the business could have been better executed, "It's hard to see what could have been done that would have led to a different result."
Before it's here, it's on the Bloomberg Terminal.
LEARN MORE