Toyota Profits Tumble as Yen Soars
The Japanese automaker's projected earnings are down drastically from last year. And the drop at Toyota is even sharper than at Honda or Nissan
Ian Rowley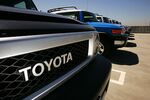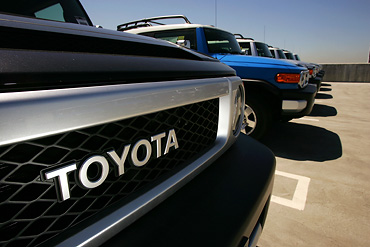 In the auto sector, the bad news just keeps coming. On Nov. 6 in Tokyo, Toyota Motor (TM) announced results that were grim even in comparison to rivals Honda Motor (HMC) and Nissan Motor (NSANY), which recently cut their full-year earnings forecasts and now expect operating profits to plunge 42% and 51%, respectively. Speaking to reporters, Toyota Executive Vice-President Mitsuo Kinoshita said Toyota would make operating profits of $6.1 billion in the fiscal year ending in March 2009, a decrease of 73.6% from a year ago.
Kinoshita, casting blame on the strength of the Japanese yen, slumping U.S. and European markets, and high raw materials costs, said the current plight of carmakers was unprecedented. "The auto market is in a very severe situation," he said. To boost earnings in 2009 and 2010, Toyota has formed an Emergency Profit Improvement Committee, led by CEO Katsuaki Watanabe, which will search for new ways to trim costs and reevaluate the size and timing of all new projects.
Other Japanese automakers are feeling the pain of the currency's rise, too. Addressing the growing concerns, Honda CEO Takeo Fukui on Nov. 6 said the Japanese government should intervene to weaken the yen. "Foreign exchange has to stabilize," Fukui told reporters at the launch of new a minicar for the Japanese market.
Thicker, Darker Clouds
As a sign of the speed with which the auto outlook is worsening, Kinoshita said one reason Toyota's forecast is gloomier than those of rivals is partly because it posted results later. "Every week the situation gets worse," Kinoshita explained. For instance, Nissan announced its results Oct. 28 and Honda on Oct. 31, before U.S. sales figures for October had been released. Since then, the numbers have come out, showing just how bad the U.S. market has become: U.S. auto sales in October slumped 32% year on year. For Toyota, the drop was 23%, despite the implementation of a 0% financing scheme for 11 models. The current outlook remains "very difficult," Kinoshita added.
Comparing Toyota's financial performance during the six months through Sept. 30 with its new full-year projection shows just how tough a few months Toyota now expects. During the first half of the fiscal year, Toyota's operating income came to $5.9 billion. That means, given its $6.1 billon earnings forecast for the full year, it's expecting to make only $200 million between October and the end of March.
If the yen fails to recover from recent highs against the dollar and other currencies, Toyota could even face a loss in the second half. Analysts say a one-yen appreciation of the Japanese currency against the dollar, for example, reduces Toyota's earnings by $450 million; a one-yen appreciation against the euro costs $80 million. The yen is currently at 98.2 to the dollar, 1.8 yen stronger than Toyota's 100-yen-to-the-dollar projection for the current six-month period. Against the euro the yen is at 126.5, compared with a projection of 130.
Bodes Ill for Industry
Perhaps most worrisome is what Toyota's downbeat forecast signals for the rest of the auto industry. After all, many industry watchers reckon Toyota, underpinned by a bulletproof balance sheet and a wide lineup of vehicles, is among the best-placed to ride out the storm (BusinessWeek.com, 10/20/08). And for all the current woes in the U.S., where Toyota temporarily shuttered three plants as part of huge production shakeup, its market share continues to rise, reaching a record 17% in the six months through September. Sales in emerging markets, such as China—where Toyota recently overtook General Motors (GM) as the No. 2 automaker—have also held up.
U.S. automakers, of course, are unaffected by the yen's surge, which Toyota projects will cost it $7 billion this fiscal year. Nevertheless, after losing share to Japanese rivals throughout 2008, earnings announcements at troubled GM and Ford (F) on Nov. 7 are unlikely to deliver any relief.
Before it's here, it's on the Bloomberg Terminal.
LEARN MORE