Next Up: A Wal-Mart Credit Card?
With banks hiking rates and fees, the time may be right for Wal-Mart to bring its cost-cutting ways to the credit-card industry
Christopher Palmeri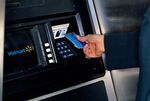 Is Wal-Mart Stores (WMT) going to bring its price-chopping ways to the credit-card industry? BusinessWeek has learned that the retail behemoth has held talks with Herbert and Marion Sandler, founders of Golden West Financial Group, about a new credit card that would offer lower interest rates and few of the onerous fees associated with traditional credit cards.