Yes, Virginia, There Is a Recession
With tight budgets and job jitters, kids are more apt to find tube socks than an Xbox under the tree
Aili Mcconnon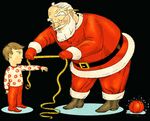 For a glimpse of shopping trends this holiday season, consider Deborah Niemann-Boehle. The Joliet (Ill.) teacher says she "used to be one of those parents who spent $1,000 at Christmas and had presents sticking out from under the tree for a couple of feet in every direction." This year, instead of getting Xboxes (MSFT) or iPods (AAPL), her three teens will receive clothes from Kohl's (KSS) or J.C.Penney (JCP). She's crocheting hats and mittens and making goat milk soap for everyone else.
Last year in Boston, single mother Sonia Paz gave daughter Triana, 7, an electronic keyboard; this year it's turtlenecks and sweaters from Target (TGT). And Danville (Calif.) writer Leigh Chronister plans to buy her two young boys socks and underwear with their favorite cartoon characters.
Facing economic uncertainty, not to mention tighter credit, U.S. households are expected to scale back spending radically this year. As retailers brace for one of the slowest shopping seasons since the early 1990s, their focus has shifted to one area that promises to stay strong: kids' apparel. Chains such as Kohl's, J.C. Penney, and Macy's are gearing their advertising and in-store promotions toward children's clothing in a bid to garner what few discretionary dollars are being spent. Ellen Davis, a vice-president at the National Retail Federation, says that children's clothing may even outsell toys this year. "In previous years, that would have been a 'because you need it' purchase, not a gift," she says.
Kohl's, for one, has increased its marketing budget to stress gifts that play to hard times. It's running TV commercials featuring Cirque du Soleil dancers and promotions highlighting its new junior apparel lines. When people stretch their budgets, says Julie Gardner, chief marketing officer, "they take care of their kids first." Among the offerings: brightly colored Jumping Beans playwear for the under-seven set and the Abbey Dawn teen collection designed by singer Avril Levigne.
NOSTALGIA
J.C.Penney is also betting big on youth clothing, with six new teen brands figuring heavily in holiday ads. "Even though the economy is tough, there will still be presents under the Christmas tree for children," says Penney spokesman Quinton Crenshaw, who plans to buy socks and a few basics for his nephews. "We believe that practical gifts will be very important for parents shopping for their children."
In tough times, it may also help to play up childhood whimsy. Macy's 2008 holiday campaign centers on eight-year-old Virginia O'Hanlon, who wrote to the New York Sun in 1897 to ask if Santa Claus was real. The company's "Believe" campaign features letter-writing stations and mailboxes for Santa in all of its stores. Macy's belief: Woo the kids and the parents will follow. Peter Sachse, Macy's chief marketing officer, says that themes of nostalgia and stability should resonate as "the consumer is looking around them and things are falling apart."
Then again, few want to see their children's smiles fall apart when deprived of toys on Christmas morning. Lauren Busch Singer, a Miami music producer and mother of two, says she wants to be practical but recognizes that "both of my boys would be making 'yucky' faces should they open up a 'Gap' box with sweaters." Then again, there's an even more prudent option. Tina Griffin of Lexington, S.C. will give her four children something that's sure to last longer than toys or clothes: U.S. savings bonds.
Before it's here, it's on the Bloomberg Terminal.
LEARN MORE