The Scoop on the Associated Press
The news co-op is flush and growing, but newspapers' woes could force big changes
Jon Fine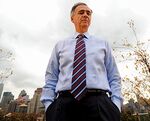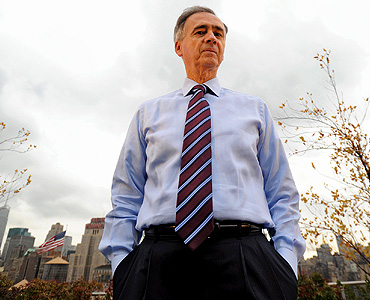 This is an especially delicious moment for news, a time of big change and bigger challenges, so you'd think it'd be sweet to run the rare massive news organization whose business is growing. But this is a delicate juncture for Tom Curley, CEO of the Associated Press. Today the 162-year-old AP is poised to loom larger than ever as a news entity, given how American newspapers are slashing staff. Unless the very factors that could enable its rise don't destroy it first.
The AP is a strange beast: a long-running cooperative success story, owned by around 1,500 newspapers and employing 3,000 journalists spread across 97 countries. Its formulaic, just-the-facts reportage is easily parodied—just ask The Onion—but it has unmatched reach. The AP boasts that more than half of the world sees an AP story ever day. It sells to more than 15,000 news outlets worldwide, including 5,000 radio and TV stations and 4,000 Web sites. The business is notionally run as a nonprofit, but in 2007 its revenues were $710.3 million, up 5% from '06. This year—thank you, oh interminable election season!—revenues should jump 6%, says Curley. The AP also has around $30 million in the bank. Unlike most news organizations, it has avoided layoffs and diversified its business. Once wholly dependent on dailies, the AP now gets 17% of its revenue from Web sites and 17% from U.S. broadcast outlets.
The problem, though, is the 27% of revenue—the biggest single source—that comes from U.S. newspapers, and those papers' increasing restiveness. More than 100 newspapers, including the entire Tribune chain, have announced plans to cancel their AP subscriptions. According to AP bylaws, two years must elapse between giving notice and actual cancellation, but losing newspapers means the AP loses their fees and the right to distribute their stories. AP executives point out that historically, many papers that threatened to drop the AP never did, and regarding Tribune, Curley says: "It's not fathomable for me to imagine that [Tribune owner] Sam Zell walks away from an equity stake in an organization that may be worth north of a couple billion dollars." The AP just cut some rates—its $30 million in cash will pay for that—and it promises a fuller response at its annual meeting next April. Curley says, not unreasonably, that certain threats could just be negotiation and adds: "Some of the people putting in cancellation notices are contracting for hundreds of thousands of dollars of new [AP] services."
A CNN WIRE SERVICE
Still, the brute facts are that it's expensive to run a breaking-news organization, and the AP isn't insulated from the declining market value of news. "The issue is not whether the AP is valuable," says Jim Willse, editor-in-chief of Newark's (N.J.) 345,000-circulation The Star-Ledger, which just used buyouts to cut its newsroom staff by 40%. "It's how much we can afford to pay for that value in a time of diminishing" revenue. A paper the size of The Star-Ledger pays more than $1 million a year for the AP. The calculus facing the Willses of the world is that you could hire 10 or more full-time reporters for that sum—and, in the au courant theory of newspapering, you put those bodies on local news and leave national and international to other outlets.
In September a pre-layoff Star-Ledger produced an entire issue without AP stories. "I doubt any reader noticed," said Willse. His paper did this, he says, "to make sure the AP understood that it was more than possible to live without the service." It may only become more so. CNN is starting a wire service; details are scanty, but more will be revealed at a planned December meeting with editors. Elsewhere, startups—PA SportsTicker is one—offer stock tables or sports scores cheaply, and GlobalPost is assembling a network of international correspondents for a 2009 launch. Ohio's eight largest papers have formed the Ohio News Organization—or, heh heh, OHNO—to pool in-state reporting. OHNO member The Columbus Dispatch plans to cancel the AP, and Susan Goldberg, editor of Cleveland's The Plain Dealer, told me how she combined efforts with Pittsburgh Post-Gazette on a recent story.
There are layers of irony at play. One is that, under Curley and head of strategy Jim Kennedy, the AP has consistently outlined a more interesting vision for a traditional news organization to evolve in today's environment—setting up new ways to share content and articulating the premium value of breaking news—than almost any newspaper owner. Another is that the AP has ankle weights when it comes to making certain moves; an Associated Press-owned online portal could never launch, since it would compete with those to whom it sells its stories. And many of those grousing the loudest about the AP are newspaper editors, exactly the kind of news junkies who least want to see the AP harmed. But if there's a gun pointed at these editors' heads—and in business terms, there is—they'll try to save what's left of their papers first.
One bold move could be to ditch the collective structure. But Curley, unprompted, told me that "nothing is being studied or discussed around structure—an IPO, or changing from a cooperative." The AP is faced with reinventing what it can, mollifying its big customers, and like them, is confronted with a future where it is paid less. A world with a weakened AP is not one I'd like to consider: Its news service would never be replicated. But you don't get to choose the collateral damage major changes to the media landscape bring, as legions of other news entities have been finding out.
Before it's here, it's on the Bloomberg Terminal.
LEARN MORE