business
Indian Textiles: Weaker Rupee Is No Help
India's falling currency should have boosted the textile industry, but slower global consumption and higher input costs are weighing it down
Nandini Lakshman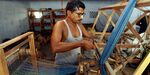 India's textile and apparel export industry may not be as high profile as most of its tech companies. But it is the country's second-largest exporter after IT and the largest employer. A year ago, when the Indian rupee was strong, local textile players were fighting for survival (BusinessWeek.com, 12/17/07). The currency is now down, off 17% this year. But instead of rejoicing, industry executives are struggling as lower global consumption, high input costs, and cheaper sourcing alternatives are taking their toll.
India can ill afford a weak textile industry. The labor-intensive sector employs 88 million people, compared with just 2 million for the IT companies, and the 15,000 textile companies are vital to India's exports. According to the Confederation of Indian Textile Industry (CITI), these companies account for $20.5 billion of the country's exports, 17% of India's total.
The numbers, however, are expected to be stagnant this year, falling much lower than New Delhi's target of $31 billion for the current fiscal year, as major markets like the U.S. and Europe fall deeper into recession. While the rupee's dive is helping exporters, the currency gains are mitigated by a slump in demand. "Our exports are down by 10% currently, and we expect the real hit to come next season," says Rahul Mehta, managing director of Creative Group and head of the Clothing Manufacturers Assn.
What's more, costs for raw materials, power, and salaries have gone up with inflation. A couple of months ago, New Delhi withdrew the 2% interest subsidy on export credit, while increasing the minimum support price—the price paid to farmers—of cotton. As a result, a cotton candy—which contains 356 kilograms of cotton—costs $462, compared with $382 last year. Textile players say it sells for much higher in some places, as uncertainty dominates India's textile fabric. "Being in the textile business is becoming unviable," says D.K. Nair, head of the CITI. He points out that 20% of India's spinning capacity—of 30 million spindles—has shut down over the past year.
Cutting Costs
To shore up operations, some companies are improving efficiency, trimming staff, and looking at newer markets. Tirupur, in the southern state of Tamil Nadu, has half a million people employed in the textile industry and accounts for 28% of India's textile exports. The city shed 15,000 jobs over the past nine months because of the impact of the strong currency. Arumugam Saktivel, who heads Poppy's Knitwear Tirupur, a local maker of shirts, says 95% of the town's textile companies have deferred expansion plans. To rationalize costs, companies have reduced work hours by 15% and operate five-day weeks. "There's a big fear of the unknown as the future looks bleak. I am trying my best to be proactive and improve efficiencies," says Saktivel. He has already invested $160,000 in a new fabric-cutting machine, and will reduce wastage to less than 2%, down from 4% a few months ago.
Others are cutting prices to retain orders. Clients, typically, wrap up deals five to seven months in advance and are now talking to their Indian partners for the next autumn supplies. In the past three months foreign buyers have been touching base with Sudhir Dhingra, chairman of New Delhi-based Orient Craft, "with requests to negotiate rates." He has been exporting casual wear for children, teens, and adults to nearly 47 clients, including Gap (GPS), Marks & Spencer, and Macy's (M). Dhingra has been hedging currency ever since the rupee appreciated a year ago but is now offering clients a 10% to 15% discount.
"The low cost will be compensated by the falling rupee," he says.
Benefits from Restructuring
Orient can afford to be brave. It had restructured operations when the rupee was strong and eating into profits last year. The company reduced 3,000 of its 25,000 head count across 21 plants in the past 11 months. "I got rid of deadwood and brought in efficiencies," says Dhingra. Exporting almost all of Orient's production, he is now hedging his business by seeking a toehold in the Indian market. He already has set up three retail stores in the last nine months.
Bangalore-based Gokaldas Exports (GOKL), however, sold out when the going got tough. India's largest apparel exporter, which supplies sportswear and winterwear to Nike (NKE), Reebok, and Puma (PUMG), was bought out by American private equity group Blackstone (BX) in August 2007. Rajendra Hinduja, managing director of Gokaldas, expects his clients to cut back orders by 10% but says the Blackstone connection has attracted 15% additional business. Ralph Lauren, J.C. Penney (JCP), and Li & Fung are some new clients. To compensate for smaller overseas orders, Hinduja is hoping domestic sales will reach 25% of the company's total, up from 10% currently.
Still, many other companies may not be able to withstand the current turmoil in the sector, feels Hemant Patel, textile analyst at brokerage firm Enam Securities. "The weak rupee will not mitigate the larger problem at hand—slowdown in discretionary spending at home and weak retail sales in global destinations," he says. As a result, the falling currency is not going to be of much help to India's textile exporters for a while. Until it is, Creative Group's Mehta has found a way to cope. "We will just go to the temple and pray," he says.
Before it's here, it's on the Bloomberg Terminal.
LEARN MORE