Infrastructure: Early Action to Fix Things
To keep America competitive, the new Administration must upgrade highways, rail, and ports, along with telecommunications
Jane Sasseen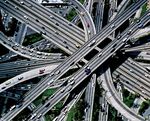 What Business Wants
Shoring up tumbledown ports. Patching pothole-riddled roads. Upgrading aging bridges.
It's hardly the sexy stuff of government. "Congress doesn't like filling potholes; it doesn't have a lot of zing to it," says Martin Neal Baily, a former head of the Council on Economic Advisers under Bill Clinton who studies competitiveness and productivity at the Brookings Institution.
But talk to CEOs who depend on America's crumbling infrastructure, and it's clear they see this decidedly unglamorous work as vital to national competitiveness. The U.S. Chamber of Commerce estimates that the decaying transportation system annually costs the American economy $63 billion in lost time and fuel. "The most important thing for the new President to do is invest in the infrastructure of the country—the fundamental things we need to do to grow our businesses," says Marc Benioff, chief executive of Web software maker Salesforce.com (CRM).
It's not just crumbling roads that corporate leaders worry about. The U.S. has slid to 15th worldwide in broadband development, according to the Information Technology & Innovation Foundation. "The next President needs to create the rules and regulations that accelerate the rollout of mobile broadband," says Gregory Q. Brown, co-CEO of Motorola (MOT).
Finding the enormous sums to repair so much will be tough. Over the next 10 years, the Chamber estimates a shortfall of roughly $50 billion per year between what is needed to repair the highway system and the spending that's currently planned. To expand the rail network to keep up with trade growth, the railroads will need an additional $148 billion. And the investment required to satisfy the projected fiftyfold rise in broadband traffic by 2015 could top $100 billion.
It's hardly a problem of money alone, but a question of how it is spent, argues R. Bruce Josten, the Chamber's head of governmental affairs. Too much has gone to pork barrel items and too many state politicians divert federal funds allocated for maintenance into projects more likely to win favor from constituents, he says. Josten argues that retailers, manufacturers, and others whose livelihoods depend on better roads and ports must work harder to build support. "They need to become the public face" of the issue, he says, thereby helping to make it clear that the U.S. cannot remain competitive if its infrastructure continues to collapse.
What's Likely to Happen
Of the many items on the business wish list, this looks to be one of the first to win active attention. With the economy sinking, infrastructure spending is a critical component of the Democrats' plans for further stimulus. In mid-October, then-candidate Barack Obama called for $25 billion to repair roads, bridges, and public schools, which he argues would help create a million jobs. He and congressional leaders are working on a $150 billion stimulus plan for late November that could include a big allocation for infrastructure.
That spending may encounter opposition from the outgoing Bush White House and its congressional allies. They argue that much of the money will simply go to pork and they complain that such projects get off the ground too slowly to help in the short term. But Jared Bernstein of the liberal Economic Policy Institute—and an Obama adviser—says lists are already being compiled of projects that are ready to start up shortly after funding is approved. In a recent report the EPI identified some $30 billion of such proposals, ranging from subway maintenance in New York to improved waste management in Indianapolis.
Given the Democrats' newfound dominance in Congress, they may no longer have to compromise with the GOP come January. If the Democrats can't get their infrastructure plans included in November's stimulus package, they'll settle for something less ambitious now, only to return with a much more extensive stimulus bill soon after Obama takes office.
The President-elect would like to make this legislation the down payment on his campaign pledge to rebuild public capital. As his term progresses, however, the economy may be more of an impediment than the GOP. "The Democrats know they've got one shot to do something dramatic in January," says Daniel Clifton, the Washington policy analyst for broker Strategas Research Partners. "After that, the spending game is over. The focus will shift to the deficit and the need to raise revenues."
Return to the Obama Election 2008 Table of Contents
Before it's here, it's on the Bloomberg Terminal.
LEARN MORE