Event Planning Takes a Hit Amid Bleak 2009 Outlook
Companies are cutting costs by hosting Web conferences, centralizing planning, switching to regional meetings, and axing lavish events
Jena Mcgregor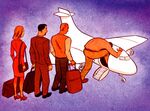 In early November, Deloitte's tax and consulting partners were due to meet at the Walt Disney World Swan & Dolphin Resort in Orlando, followed by a Deloitte retiree gathering. But Deloitte decided to cancel both events in mid-September and host Web conferences instead. "We just don't want to be holding a big event in the bad economy," says Deloitte director Margaret Moynihan.
With corporate spending under intense scrutiny, managers are cutting back on gatherings and axing everything from hors d'oeuvres to high-priced speakers at those that remain. Even some incentive trips to reward top performers are getting dropped: Wachovia (WB) canceled a Greek cruise for 75 financial advisers and their spouses in October. (Wachovia and Deloitte say the moves were to keep advisers close to clients amid the turmoil.) Executives are conscious of the bleak outlook for 2009, not to mention public outrage over American International Group's (AIG) luxury retreats after a massive government bailout. AIG has since cut 160 conferences and other events costing a total of more than $8 million. "Some companies are holding firm. Most are not," says Gary Seltzer, a founding partner of New York event production company Concentric Communications.
While the squeeze is prompting anxiety in the more than $120 billion-a-year U.S. meetings industry—trade group Meeting Professionals International issued a "call to action" entitled "Saving the Economy Through Meetings"—it's also spurring companies to seek creative ways to cut costs without calling off scheduled events outright. Many have little choice, because they would face up to hundreds of thousands in cancellation fees. "The big shakeout on this will probably be in this coming calendar year," says Maritz Travel Vice-President Chris Gaia. That said, companies still need to reward top performers, bring global teams together, and network with customers. As Symantec's (SYMC) worldwide operations vice-president, John B. Sorci Jr., argues: "You lose something when you don't have those face to face meetings."
Shorter Guest Lists
There are ways to hold events in a tough climate. Home Depot (HD) and Symantec are centralizing event planning and oversight to secure better deals. "Very few CFOs can say how much they're spending on meetings," says Hervé Sedky, general manager of global advisory services and meeting solutions for American Express (AXP). Others are holding smaller regional events within driving distance for attendees instead of one single national confab. That saves airfare and invites less scrutiny than one splashy event. Many are shortening trips, too. In August, Tennessee-based retail chain Tractor Supply (TSCO) saved $500,000 by trimming a day off its managers' meeting and limiting invites to store and district managers, leaving assistant-level supervisors off the list.
Off-site events such as board meetings and product launches are moving onto company property. Five years ago, when Ford Motor (F) last introduced a redesigned truck, around 300 journalists converged at a private ranch in Texas to see it, leaving Ford with a tab of more than $2 million. When the automaker launched its F-Series pickup this October, it spent well under $1 million by hosting the event in Detroit and putting guests in a suburban hotel. Chief Marketing Executive James Farley makes no apologies: "This is a belt-tightening period, for sure."
Before it's here, it's on the Bloomberg Terminal.
LEARN MORE