Energy: Lay Out Clean Rulesand Fast
With carbon restrictions likely soon, business wants the new President to lay out the rules. And quickly
John Carey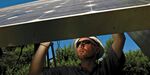 What Business Wants
The financial meltdown and plunging oil prices have pushed the energy crisis off plenty of priority lists. But for Michael G. Morris, CEO of American Electric Power (AEP), one of the nation's largest electricity generators, it's still front and center. "At $2.30 per gallon of gasoline, many think the energy issue is over," he says. "It is so far from over."
It's more crucial than ever, Morris and many other executives say, for Barack Obama to guide the country down a new energy path. The goals: reducing U.S. dependence on imported oil, making the economy less vulnerable to energy disruptions, modernizing the creaky electricity-transmission system, and tackling global warming. "We are not going to fix the economy over the long term without taking care of energy," says Red Cavaney, longtime president and CEO of the American Petroleum Institute.
Business wants a comprehensive energy plan, and fast. The issue is especially urgent, leaders say, not only because energy prices are expected to rebound once the recession ends but also because companies face difficult multibillion-dollar investment choices. In general, they accept restrictions on carbon emissions—and expect them. But without knowing what the rules will be, how do companies decide whether to build new nuclear or coal-powered plants? Spend more on wind, solar, transmission lines, or efficiency measures? Tool up to make plug-in hybrid cars or construct biofuel factories? Such choices aren't limited to energy companies, since energy costs determine whether or not it will be economically feasible to site a new aluminum plant in the U.S. or to expand airline routes. Investments could be brilliant or doomed, depending on what Washington does.
It has been enormously frustrating to business that Congress hasn't even been able to take tiny steps with strong bipartisan support, such as extending incentives for wind, solar, and other fossil fuel alternatives in time to prevent disruptions in these industries. Now companies are looking to President-elect Obama to force Washington to act. "The way we made it to the moon was with a strong hand from the executive branch," says Andrew W. Hannah, CEO of Plextronics, a Pittsburgh printer of electronic circuits for solar panels and other devices. "We need to have that voice in the executive office now."
There's remarkable agreement on the general outline of a new energy strategy. It would include efficiency measures such as tougher appliance standards and funding for weatherization of buildings. It would boost all forms of low-carbon-emitting energy, from renewables to nukes and "clean" coal (where CO2 emissions are captured and stored). It would open up more areas to drilling.
"There's this image that Republicans are just for drilling, and Democrats are just for efficiency and renewables," says Tom Kuhn, president of the Edison Electric Institute, which represents utilities. "We don't have the luxury of picking one or the other. We really need to have it all." Dow Chemical (DOW) CEO Andrew N. Liveris warns that "other countries are putting in place very, very sound energy policies that include all of those components. Without an energy policy, our industry will continue to build factories [and send] jobs overseas."
The strategy must also explicitly tackle global warming, executives insist, since climate and energy are inextricably linked. Companies need to know how much the government will limit greenhouse gas emissions and how this will affect the cost of fossil fuels. "We must enact mandatory climate legislation, and pass it soon," says John Rowe, CEO of Chicago electricity generator Exelon (EXC).
What's Likely to Happen
There will be action, although fights over the details will be contentious. "This is one issue that, if done well, could be accomplished even in this tough economic environment," says Cal Dooley, president and CEO of the American Chemistry Council. It helps that energy and climate policy increasingly is seen as a way to stimulate the economy. "Clean energy means green jobs," argues Barbara Boxer (D-Calif.), chairman of the Senate Environment & Public Works Committee. Jigar Shah, founder of SunEdison, a solar company in Beltsville, Md., says that if the government led by example and made its own buildings greener, thousands of jobs would be created, and "the net cost could be zero, because it will save so much energy." Fund home energy-efficiency retrofits, mass-transit systems, carbon-capture pilot projects, and other measures, and the nation would see a green recovery, many experts argue.
It helps that Obama has made energy a top priority and has a respected group of advisers, led by Jason Grumet, president of the nonprofit Bipartisan Policy Center. Energy proposals in Congress often have sunk due to partisan wrangling. But as executive director of the National Commission on Energy Policy, Grumet oversaw the creation of a bipartisan plan that tackled everything from auto fuel economy to natural gas supplies. In the past few months, Congress itself has taken steps toward a compromise.
Still, hashing out the fine points won't be easy. Industries that depend on natural gas are lobbying to allow drilling on the outer continental shelf closer than 50 miles offshore, which environmentalists oppose. Utilities with nuclear plants want permits to emit carbon to be auctioned, while those with dirtier coal plants insist the permits be given out. Battles simmer over fuel economy rules, requirements that biofuels have low carbon footprints, the number of new nuclear plants, and other issues.
The new President can, however, accomplish a lot through regulation. He can raise efficiency standards, change building codes, and give the Federal Energy Regulatory Commission more authority to get transmission lines built. Grumet has said that Obama is even prepared to regulate greenhouse gas emissions under existing laws. That's fiercely opposed by the U.S. Chamber of Commerce and many companies, who expect to get a better deal in Congress, but the threat will pressure lawmakers to act.
Ultimately, the amount of change will depend on the President's ability to convince Americans that their long-term future depends on an energy transformation. Plextronics' Hannah is hopeful. "Obama truly understands the convergence of technology and energy and how it can drive the economy," he says.
Return to the Obama Election 2008 Table of Contents
Before it's here, it's on the Bloomberg Terminal.
LEARN MORE