business
Election 2.0: An Online Guide for Political Junkies
New Web sites and blogs, as well as expanded cable coverage, offer viewers more ways than ever to dissect and obsess over the vote
Moira Herbst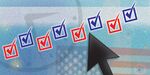 During the last two Presidential elections, the Internet played a bigger role as news organizations supplemented their coverage with online posts. But more than in any previous election, the 2008 contest will be covered from every possible angle online.
A few relatively new Web sites have become essential for election junkies. Politico, launched in 2007, showcases established names as well as younger talent with stories, blogs, and columns on the candidates and the issues. RealClearPolitics has a comprehensive list of the day's major op-eds as well as an in-depth, right-leaning commentary section. There's also Talking Points Memo, which has a left-leaning perspective and has surged in popularity this fall.
Then there are, of course, the more traditional news outlets. CNN is known as a top source for exit polls and state-by-state vote results, with its Web site often posting results more quickly than the broadcast counterpart. Meanwhile, networks such as ABC, CBS, and NBC are offering a combination of live news streams from their newsrooms and election headquarters, as well as blogs and interactive electoral maps. PBS and National Public Radio have an interactive map, along with election news and analysis from public broadcasting stations across the country.
The New York Times plans to offer video updates online every 30 minutes from 7 p.m. to 12 a.m. Eastern time, featuring reports from the paper's correspondents, plus interactive maps. The Wall Street Journal's Election 2008 page also has video reports, analysis, interactive maps, and an Electoral Compass that allows readers to measure their political leanings. Social networking sites are also getting in on the game; MySpace will air a live stream of MSNBC's coverage on its MySpace Decision08 page, along with a map that will update election results in real time, blogs, and user-generated video.
For Partisan Punditry
If you're craving a heavy dose of bias with your coverage, Fox News programming will take care of the conservative side, and MSNBC the liberal. Online, there are liberal favorites like Arianna Huffington's Huffington Post, Markos Moulitsas Zúniga's Daily Kos, and Eschaton, a blog by Duncan Black, who is also known as Atrios, a fellow at the media research group Media Matters for America. Former Vanity Fair and New Yorker editor Tina Brown has recently added The Daily Beast to the left-leaning roster. On the conservative side check out the Drudge Report, known for its less-than-flattering coverage of Bill and Hillary Clinton, as well as TownHall.com and Little Green Footballs.
For a Numbers Fix
Viewers can also crunch numbers as the night unfolds. Nate Silver's FiveThirtyEight has showcased the best collection of geeky statistics to date on the polls, and promises to do the same as vote counts arrive. Another option for state-by-state tracking is Electoral-vote.com. Its "Data galore" section houses lists of obscure information like the list of "U.S. House Districts in which the 2006 winner is not running in 2008." Election-Projection.net uses computer simulation to calculate the probability of Obama or McCain winning the Presidential election based on recent polls. (On Nov. 3 it had McCain at 0.1% and Obama at 99.99%.) It also has a feature called BattleRank, which ranks the states most likely to swing the election. If you're seeking to further tailor your election-viewing experience, some sites offer do-it-yourself-style tools. On CNN.com, the yourRaces tool allows users to create a custom list of races to track.
To Follow the Money
OpenSecrets.org, the Web site of the nonpartisan Center for Responsive Politics, has resources for users to track the influence of money in what the center predicts will be the most expensive U.S. election in history (BusinessWeek.com, 10/22/08). It includes Presidential and congressional race profiles with summary expenditure figures and donation breakdowns by industry for candidates in each House and Senate race. The 2008 election overview section shows statistics on total fundraising by federal candidates, top overall donors by organization and industry, the most expensive races, total contributions by state, as well as top metro areas and Zip codes for contributions.
Before it's here, it's on the Bloomberg Terminal.
LEARN MORE