McCain Wins Fans in India
India has thrived under Bush's pro-outsourcing policies, and many Indians hope for further prosperity with McCain
By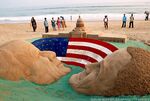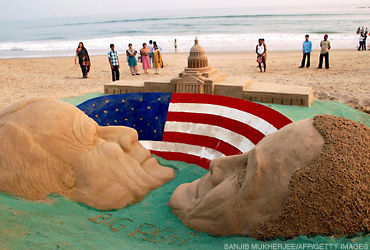 It is an oft-repeated refrain in the 2008_election season that even while America remains torn between Senators Barack Obama and John McCain, the rest of the world has overwhelmingly chosen Obama. Poll after poll shows how the invasion of Iraq, the detention of prisoners at Guantánamo, and the sagging popularity of President George W. Bush have translated into a battering of America's image abroad—and by extension, soured the world on a Republican President.
But in the American-style shopping malls and 24/7 call centers of modern India, where McDonald's franchises sell paneer tikka wraps and American flags adorn the walls of outsourcing firms, the past eight years of a Republican Presidency have been fantastic. That approval of a Bush Presidency has overflowed into a wellspring of support for another Republican Presidency, making India one of those rare countries in the world where support for Obama's historic run has not resulted in a landslide of public opinion in his favor. Indeed, depending on which poll you look at, Indians either prefer McCain and Obama equally, or Obama by the smallest margin in the world.
India's enchantment with the U.S. has grown in direct proportion to their economic intertwining: The more business Indians do with Americans, the more they seem to fall in love with them. Indeed, as the world has grown disenchanted with America during the Bush Presidency, Indians have grown to become its biggest fans.
Human Contact
Billions of dollars and millions of jobs have flowed to India since 2000, igniting an economic engine that has changed the fortunes of urban Indians, and tied their financial futures closely to the U.S., a country that most will never visit. But as many Indians spent hours on the phone with American customers, walking them through their daily tribulations with credit cards and misplaced online purchases, it created an understanding of America—and Americans—that cut through geopolitics. "They're a lot like us," says Ranadeep Sen, 24, who spent three years at a call center that handled computer-related problems for Midwesterners. "They have their problems, but it's not like they are all trying to conquer countries and kill civilians. Their cars break down, their computers break down, they have trouble [paying bills]."
Couple that with a Bush-sponsored nuclear deal, which while creating tens of billions of dollars of business opportunity for American companies, also helps India shed its status as nuclear pariah, and Indian Prime Minister Manmohan wasn't far from the truth when he declared to President Bush in Washington earlier this year that "the people of India deeply love you."
In two separate polls carried out by the Pew Global Attitudes Project and the BBC, Indians have been among the most supportive—and appreciative—of American foreign and economic policy. Among Indians, 59% held favorable views of the U.S., second only to Nigerians, according to the Pew survey. Between Obama and McCain, the choice remained almost a dead heat.
A Divide on Trade Barriers
More recently, a BBC survey of 22 major countries showed 49% of the respondents preferred Obama, compared with just 12% for McCain—making a 37-point lead for Obama. But in India, that lead shrank to just nine percentage points. (One caveat: That poll was conducted after the Democratic convention but before the Republican convention—and before McCain's choice of Alaska Governor Sarah Palin as his running mate.)
In his popular "Swaminomics" column for India's largest English newspaper, The Times of India, Swaminathan S Anklesaria Aiyar added up the economic benefits of McCain as compared with Obama, and reached the conclusion that a McCain Presidency would be best for India. He found that McCain voted against trade barriers 88% of the time, and against export subsidies 90% of the time. This contrasts sharply with Obama, who supported both of those measures. In 2007, according to Aiyar's survey, Obama voted to lower visa quotas for Indian engineers (BusinessWeek.com, 5/18/07) working in the U.S., and also supported subsidies for U.S. farmers. Opposition to those subsidies (BusinessWeek.com, 7/30/08) which was one reason India and other developing countries refused to go along with a proposed World Trade Organization deal earlier this year. "It will be great to have a black U.S. President," wrote Aiyar. "It would be even greater if he followed McCain's economic policies."
Even though the excitement of Americans potentially electing a minority President is palpable in discussions with Indians who follow the U.S., there is a clear element of self-interest in how most Indians view the two candidates. "Their ideas on Iraq or terrorism or global warming all seem the same to me," said Sanjiv Singh, 32, a bank-employee. Singh, who plans to visit relatives on the West Coast next year, had driven to the shops in Delhi's crowded Bhogal market on Monday afternoon in a Chevrolet Spark. "What matters is simple things," he says. "Is there going to be more economic growth? Are they going to back us or Pakistan?"