Factory Slump Puts China on Verge of 'Recession'
October's sharp contraction in manufacturing heralds a widespread slowdown in the Chinese economy
By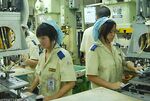 Anyone who was looking for China somehow miraculously to save the world economy is going to be terribly discouraged by the latest signs of a economic slowdown in the Middle Kingdom. The CLSA China Manufacturers Purchasing Managers Index (PMI) showed that factory activity contracted sharply during October, with the index falling to its lowest level since the surveys began in June 2004.
Based on monthly questionnaires sent to 400 Chinese manufacturers asked to give month-on-month comparisons, the survey is widely considered one of the most robust leading indicators in China, where economic data are often suspect. The PMI is also important because manufacturing accounts for about 42% of China's gross domestic product. A rating of 50 is the cutoff for expansion/contraction. In October it registered 45.2, down from 47.7 in September. "Chinese manufacturers are seeing their order books cut, both at home and abroad, as the world economy falls into recession," Eric Fishwick, head of economic research at Hong Kong-based CLSA said with the release of the report. "The coming 12 months will be difficult for manufacturers, China included."
The growing signs of slowdown (BusinessWeek.com, 10/29/08) are manifold. In Guangdong province, traditionally the center of China's light industry, nearly half the toy manufacturers have gone out of business. Some have moved to cheaper locations inland, but others have disappeared altogether, often leaving workers with several weeks of unpaid wages. On Oct. 16, Hong Kong-owned Smart Union Toy left 6,000 workers in the southern city of Dongguan in the lurch after it closed without warning. The government may now have to compensate workers from Smart Union, which produced toys for Mattel (MAT) and Walt Disney (DIS), for unpaid wages.
Pump-Priming Needed
The deterioration in China's economic outlook has been relatively recent. In mid-summer, only pessimists expected China's GDP growth to slow next year to 8%, a level necessary to ensure the absorption of new labor entrants into the work force. Anything below this could by Chinese economic standards be considered a recession. Now economists are following one another with economic downgrades. On Oct. 31, UBS issued a new growth forecast for next year of 7.5% (down from 8%), warning things could be even worse if the government does not come up with a speedy and effective program of monetary loosening and pump-priming.
Any effective program will also need to address China's property problems. Real estate accounts for 25% of all fixed investment in China, and Credit Suisse (CS) economist Dong Tao says China's single biggest challenge is to save the property market from spiraling into a (vicious downward circle. Beijing introduced countrywide measures to boost the housing market by cutting required downpayments from 30% to 20% and reducing fees related to home purchase. The government has also cut interest rates three times in two months and lifted loan quotas on banks.
These measures, however, are insufficient to lure buyers back into the market. Indeed, China is just entering the down cycle of its property market after years of heady growth and inflated prices. Transaction volume has slowed to a trickle, putting the squeeze on thousands of developers who are desperate for cash. This, in turn, makes banks highly vulnerable to defaults. "If there is continued stagnation, there will be all kinds of complications for consumer confidence," Dong Tao said last week.